Through the magic of music and whanau, Matewa Media and Pixar Animation Studios are excited to announce the cast in the first-ever Oscar-winning Pixar film to be reversioned into Te Reo Māori - Coco Reo Māori.

Coco Reo Māori opens in participating cinemas across Aotearoa from Thursday July 13th.

Mānuera Mānihera makes his debut as the voice of aspiring musician Miguel, while multi-award-winning Māori musician and actor Troy Kingi will play Héctor, a charming trickster in the Land of the Dead. Justin Rogers (The Lion King Reo Māori) returns as the most famous musician in history, Ernesto De La Cruz, and haka idol Naomi Herewini-Houia joins the cast as the family matriarch Mamá Imelda.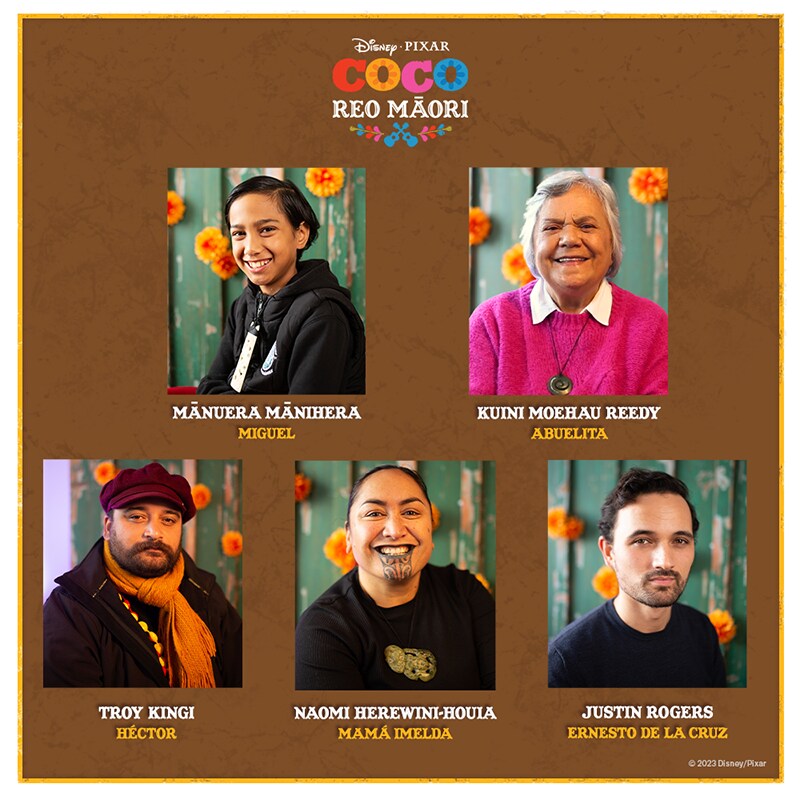 Composer and Kohanga reo stalwart, Kuini Moehau Reedy will play Miguel's grandmother, Abuelita, and renowned actress and director Rachel House (Soul, Hunt for the Wilderpeople, Moana) will also join the cast to voice Miguel's beloved great-grandmother Mamá Coco. Roimata Fox (Muru, Witi's Wahine, Cousins) will step in to voice Mexican icon Frida Kahlo, while theatre actor Rutene Spooner (Frozen Reo Māori) returns to voice multiple roles including Miguel's late great-grandfather, Papá Julio.

Filling out the rest of the Rivera family are Te Rongopai Channings, who will play Miguel's supportive father, Papá; Cilla Ruha, who will play Miguel's loving Mamá; Ngātarawāhi Fairhall, who will play Miguel's late twin uncles Tío Oscar and Tío Felipe; and Arihia Cassidy (The Lion King Reo Māori) returns to voice Miguel's late aunt Tía Rosita.
Edd Rivera, hailing from the home of Mariachi, and multilinguist Hana Mereraiha, have ensured the Spanish language is honoured throughout the film. Translations for the film were completed by father/son duo and renowned Tai Rāwhiti natives, Tā Selwyn Parata (chair of Te Matatini) and Ngarimu Parata.

Produced locally in Aotearoa by Matewa Media, Tweedie Waititi (Producer/Director), Chelsea Winstanley and Mia Henry-Teirney (Producers), Rob Ruha and Pere Wihongi (Music Directors) bring the Reo Māori adaptation to the big screen nationwide in time for Matariki. Coco Reo Māori is a celebration of Te Reo o Te Tai Rāwhiti, drawing on its specific and unique mita (dialect) to bring the story into Te Ao Māori.
"Lookout for all the Ngāti 'saysay' (idioms). Coco Reo Māori is all about whānau, it celebrates all the matriarchal and Te Ao Wairua elements evident in our cultures," said Tweedie Waititi.
Producers Chelsea Winstanley & Mia Henry-Teirney said: "Working on Coco Reo Māori has been incredibly special. It's been beautiful to discover how our cultures are similar in the way we honour and value our loved ones."
Coco Reo Māori is the first Pixar film reversioned into Te Reo Māori to be developed and produced by Matewa Media in association with Pixar Animation Studios. The previous three Disney films were Moana, The Lion King and Frozen.