Lucas Film artist Mark Raats reveals what it was like being a part of the epic conclusion to Star Wars.
Revered artist Mark Raats designed a poster for the cinema release of Star Wars: The Rise of Skywalker, which is now streaming on Disney+
In a behind-the-scenes clip, Raats gave us a glimpse at his creative process and explained why it's an honour being a part of Star Wars. 

"Working on this project has been absolutely fantastic," Raats said. "To be able to do something as significant as this, as a bookend to the entire franchise, is probably one of the highlights of my career."
Raats has been a fan of Star Wars since he watched A New Hope for the first time. Since seeing the original movie, he has been a long-term Star Wars fan. Throughout his career, he has worked with Lucasfilm and Industrial Light Magic and was involved in computer graphics and interactive for the re-release of the original trilogy. He's even created works for George Lucas' personal collection, where the first piece that was purchased was a cartoon of Lucas as Yoda. When he moved to Australia with his family, he stepped away from animation and decided to focus on illustration.
For the Star Wars: The Rise of Skywalker poster, Raats explains that it was the composition of the background that was the most challenging. Filled with detailed drawings of various scenes from across all Star Wars movies, Raats explained that he had to find the perfect balance between the foreground and background.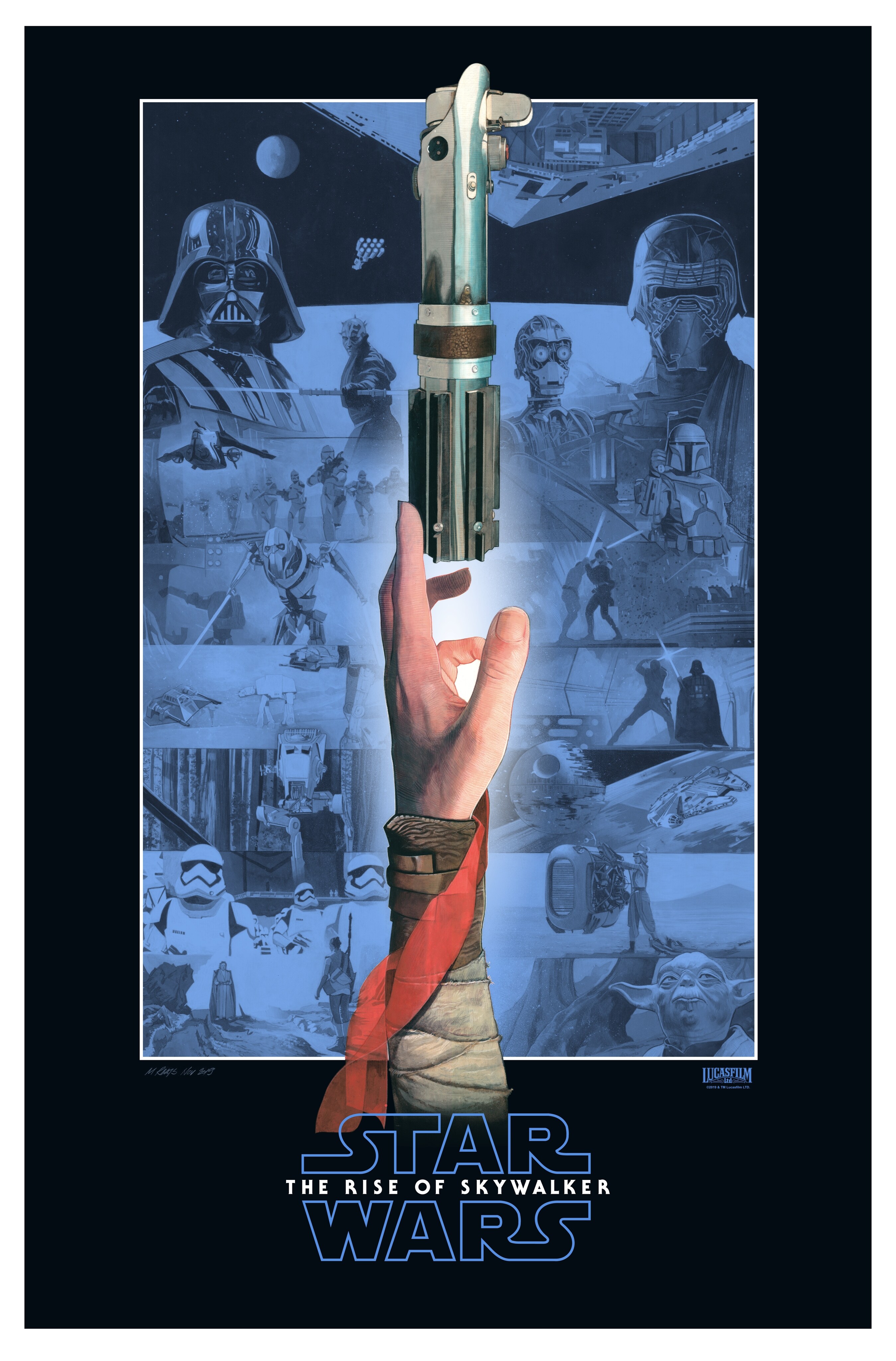 "I didn't want the background to overpower the foreground, by the same token I wanted to try and convey to the fans that I was incorporating scenes from all of the eight previous movies," he revealed.
While the poster is filled with iconic moments from the movies, the foreground uses a powerful image of Rey reaching to the hilt of a lightsaber "in the same way that the lady of the lake reached up for Excalibur in the Arthurian legend".
"Having had the opportunity to work on it has been a privilege of the highest order," Raats added.
All Raats' posters for Lucas Film are hand-drawn and painted. Watch the video below to see him in action.
Star Wars: The Rise of Skywalker is now streaming on Disney+