Australian-based photographer, filmmaker, and National Geographic contributor Michaela Skovranova talks about her work, the plight of Grey Nurse Sharks and shares some of her photos showcasing more of the beauty in our backyard.
Since we just had Shark Awareness Day and National Geographic's documentary, Shark Beach with Chris Hemsworth is now streaming on Disney+, we thought it was the perfect time for Michaela Skovranova to take over our Instagram for a week and for us to learn about her profound bond with marine life and mission to save endangered species. 
Michaela is a passionate advocate for sharks, biodiversity, and sustainability and has spent years under the surface capturing photos and videos of our ocean world up close to reveal the magnificence it holds. 
Her first exploration underwater launched an obsession with what lies beneath.
"It felt as if I entered a weightless universe with creatures gliding past that I have only ever seen in drawings or documentaries. There are not many places in the world where you can experience nature in this way. I love the vastness of the ocean, the secrets and creatures it hides and the very fact that it is essential for our survival on this planet."
"A beautiful moment that stands out was on my first assignment for National Geographic in 2017. We were diving during the full moon which illuminated the reef and countless bioluminescent creatures around us. It felt like I was floating in space - it was just magic."

You can watch Michaela in action by clicking through to the video in the post below.

Her career has taken her all over: Antarctica, The Great Barrier Reef, the Kimberley and Tonga to name a few, but in Australia, it's the Great Southern Reef covering 71,000 square km that she loves to explore and photograph. 

"It is one of the most biodiverse areas in Australia. These reefs are wild, pristine and some of the most unexplored regions in this country. Around 85 - 90% of all marine plants and animals found there aren't found anywhere else in the world."
Currently, Michaela is on the East Coast of Australia documenting our dwindling number of Grey Nurse Sharks. 

"The Grey Nurse Sharks are considered to be critically endangered and it's estimated that there are only about 2,000 left along the entire East Coast."
"One interesting fact is they aggregate in large numbers at specific sites up and down the coast of Australia during various stages of their life cycle. Researchers have been studying these sites and have been tracking the shark movements utilising citizen science via a program named Spot a Shark."
"Every shark has a unique spot pattern on each flank. A photograph of a flank can be matched to another photo or the shark may be a new addition to the database. The researchers can utilise this data to determine migration patterns and the health of the population." 
"Sharks play an important role in the ecosystem. As apex predators, they help keep our oceans healthy by removing sick and weak prey, helping to ensure species diversity. Our survival depends on the health of the ocean which produces over 50% of the air that we breathe. It's truly a privilege to be able to share these moments with them."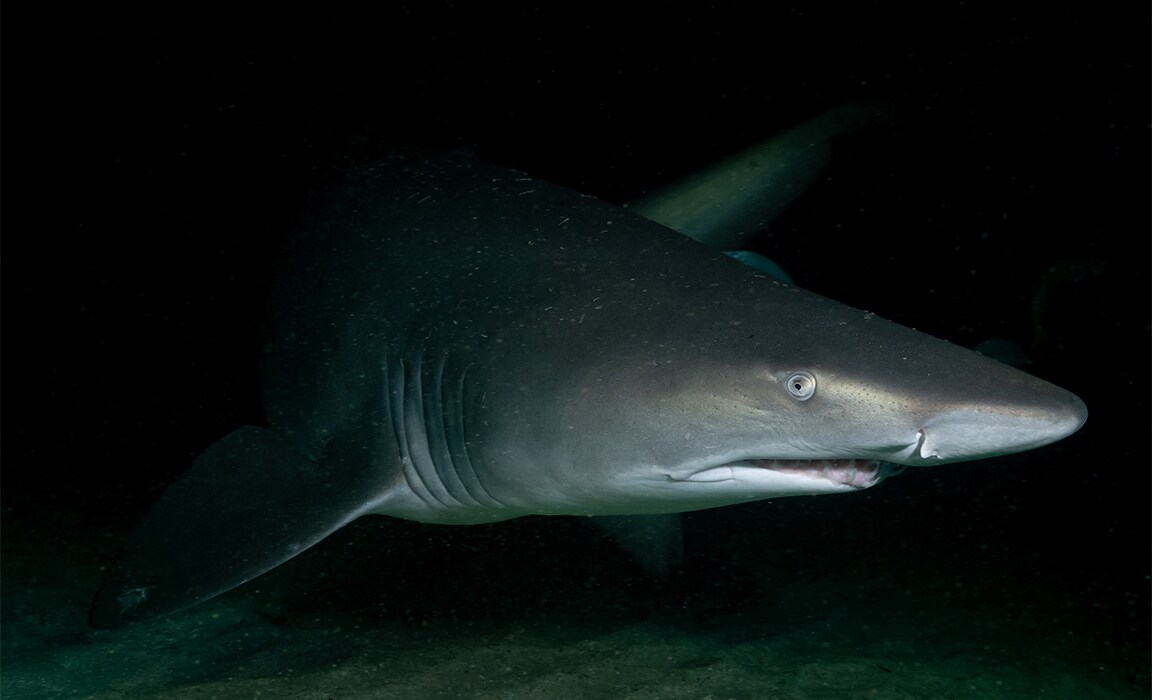 There are several difficulties faced when filming and photographing underwater.

"We have a limited time underwater—either as long as our breath-hold lasts or a tank of air. Also, the weather always provides a wonderful challenge. We need to consider factors such as safety, wildlife interactions and visibility. I have my equipment and settings ready to photograph as soon as I jump in the water, that way if the wildlife interaction only lasts a moment, I am giving myself the best possible chance to capture it." 
Michaela records the wonderfully rich worlds above the ground and the under the sea in unfiltered and striking detail. Her work is atmospheric and has an almost other-worldly look. Knowing that these animals, plants and landscapes exist right here on our planet heightens the beauty and emotion when seeing them presented in this way.  

"My style is quiet, meditative with a focus on the subtle changes of light. I love to immerse myself in nature and collaborate with the environment around me. When I am in the midst of an assignment it can be difficult to process everything that is happening around me, however, there are times when the conditions align into what I call beautiful accidents. In moments like this, I tend to hold my breath for a little longer and experience a warm glow that comes over me. And it's in those rare moments that I know I captured something truly special."
"One great piece of advice I was given was to explore my backyard. Practice photography as often as you can. Above and below water."

"Observe the light as it shifts and changes and photograph on whatever tool you have available so when you do have the opportunity to document underwater the camera becomes an extension of you and your practice. You will then be able to enter new challenging environments and feel more comfortable with your unique approach to storytelling."
Check out a selection of Michaela's amazing photos in the gallery below and follow her on Instagram. 
Keep up with the latest from National Geographic Australia & New Zealand on Instagram and Facebook.