Disney News had the incredible opportunity to visit the set of Marvel Studios' Eternals in London on the last official day of filming and interviewed members of the cast and crew, including actors Salma Hayek and Lia McHugh and producer Nate Moore.
The wait is over! Marvel Studios' Eternals is coming to Disney+ and will be streaming from 12 January, and it's launching a whole new chapter for Marvel Studios.
Directed by Academy Award winner Chloé Zhao, the film follows a group of Super Heroes from beyond the stars who have protected the Earth since the dawn of time.

Set on Earth over the course of 7,000 years, producer Nate Moore calls Eternals Marvel's "most ambitious first film" yet. Eternals was created by Jack Kirby in 1976, "but we do change some of the Kirby mythology," says Moore, "so our movie takes place over two time periods… There's a past storyline and a present storyline."
With ten Eternals, it's the largest cast Marvel's had for a first movie, but with a story that covers such a large scope of time and history, the large cast is warranted.
"In the past, we see the Eternals — who in our version of the mythology are immortal aliens from a planet called Olympia — who've been asked by the Celestials to rid the Earth of creatures called the Deviants. The Deviants are these parasitic aliens who go from planet to planet, and as they kill the apex predators on a given planet, they take the characteristics of those predators and wipe out intelligent life," Moore shared.
So in the past, we see the Eternals as they come to Earth and begin to succeed in eradicating the Deviants. But at the same time, these ten characters start to fracture as a team and split off and go their own ways.
In the present-day storyline, the Deviants return, and the Eternals must regroup to return to their mission of saving humanity.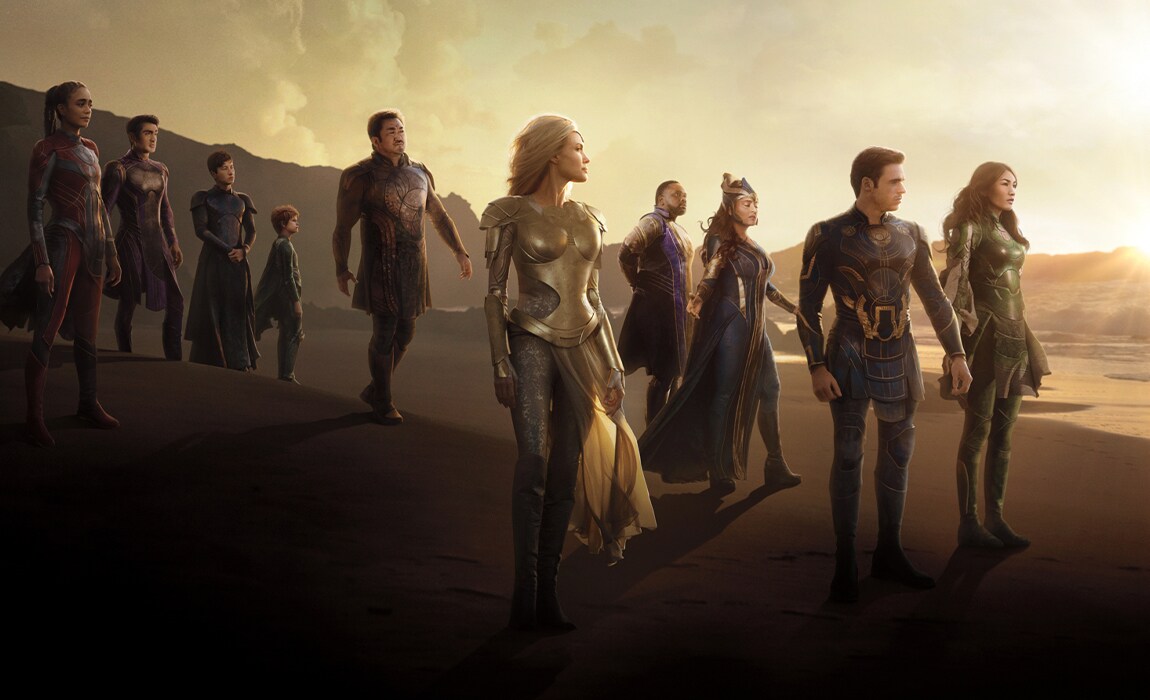 "We often talk about our Eternals in pairs because pairs tend to spend a lot of time together in the movie," though the type of connections between the pairs varies greatly. And of course, the group of ten has an overall dynamic.

Moore said, "They [actors] became fast friends, which was great because we knew in order for you to believe that these people had worked together for 7,000 years, they had to have chemistry on screen."
One way the cast built their team chemistry was through the time spent together side by side in the makeup chair. Frances Hannon, the film's hair and makeup designer explained, "My [hair and makeup] truck seats ten, so I can put ten Eternals in the chair all in one go."
Salma Hayek compared this experience to previous film sets: "The relationship off-screen was an unusual situation, because sometimes you're not working and other people are working, and you don't see [them] — you're like in a micro-universe with one or the other."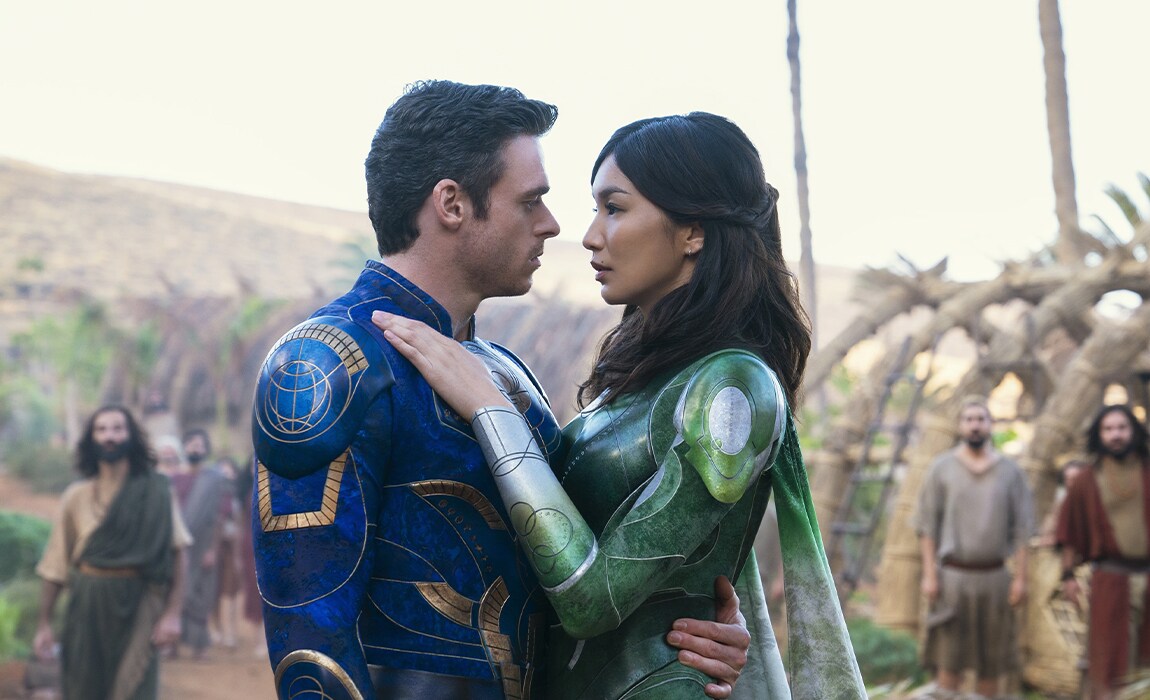 The central pair of Eternals is Sersi, played by Gemma Chan, and Ikaris, played by Richard Madden. Sersi has the ability to change matter with the touch of her hand, and Ikaris is the de-facto physical leader of the Eternals, and can fly and shoot cosmic energy out of his eyes. Moore showed storyboards of Sersi's power in action. 

Of their relationship, meant to be the spine of the movie, Moore shared, "We've made 25 movies now at Marvel, but this is the first movie that's really built around a romance as the centre," with past films' romantic plots tending to be side stories. 
[In] 7,000 years they definitely have their ups and downs, so you get to see all of the happy joyous parts and the hard parts and the tricky parts.
"And again, I think that it's really interesting to explore, in the midst of all the other things that are going on, how do these two people stay together (if they do stay together)? Or if they don't stay together, what tore them apart?" Hayek, speaking to the character of Ikaris, shared, "Ikaris is the perfectionist. He has to do everything perfect."
The next pair of Eternals is Thena, played by Angelina Jolie, and Gilgamesh, played by Don Lee. Thena is the best warrior in the galaxy, and Gilgamesh is the strongest physically of the Eternals. Moore explained their powers, "He can use his cosmic energy to create an exoskeleton that actually amplifies his strength. Thena can use her cosmic energy to create weapons — any weapon she can think of on-demand — made of cosmic energy." 
However, in the present-day storyline, Thena's been afflicted with something akin to dementia, called Mahd Wy'ry, which can affect an Eternal due to the sheer amount of memories they accumulate. She starts to forget exactly when in history she is, so Gilgamesh becomes her protector. 
In the present-day timeline, the two are living off the grid in Australia because she's too dangerous to be around humans.
Of casting legendary action actor Jolie, Moore shared, "When we first talked to her, she thought we wanted her for a very, very small cameo, so she was sort of surprised at the size of the role and really threw herself into Thena, creating a movement style and a fighting style that was unique." 
Actor Salma Hayek shared the perspective of her character, Ajak, on Thena and Gilgamesh: "Thena is mysterious and you never know what's going to come out in her — because she is the strongest, and in some ways, the most fragile, and that's the beauty in her, and this is why I watch out for her. And then Gilgamesh is the one with the good heart, the kindest one."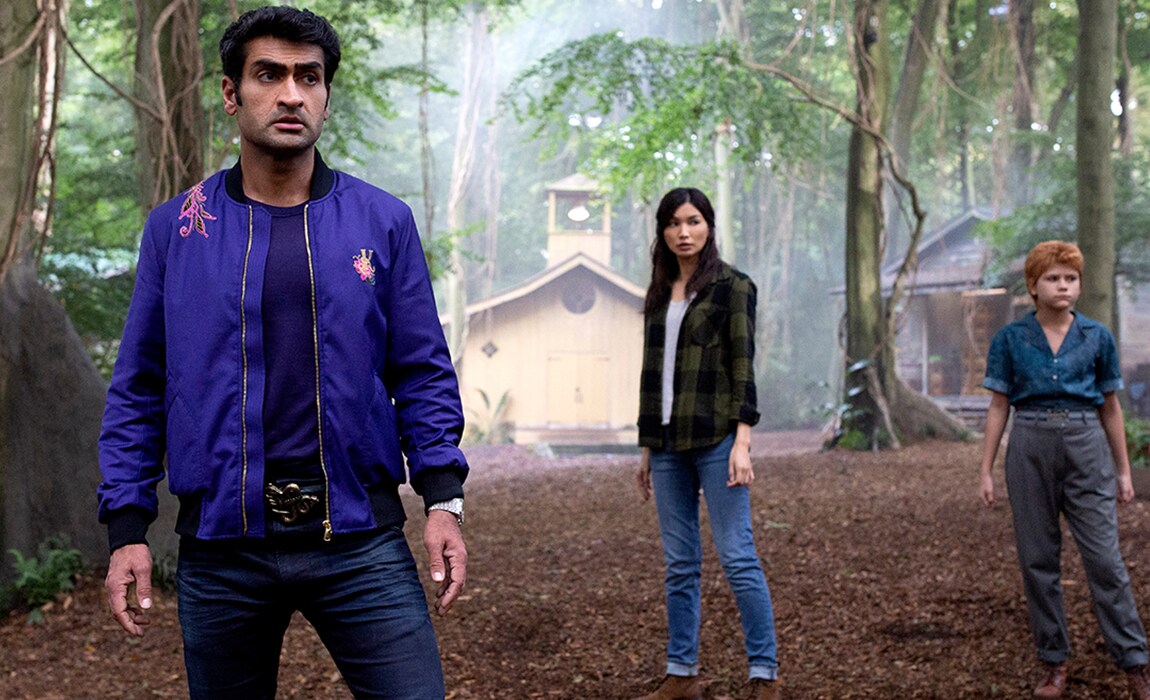 The next pair of Eternals are Sprite and Kingo. Lia McHugh plays Sprite, who appears to be a child; Kumail Nanjiani plays Kingo who, in the present day is a Bollywood star. The two had a falling out when about 100 years ago, he left her to fend for herself and pursue stardom, so they have a very contentious relationship. Its also a source of comedy," producer Nate Moore shared.
Lia McHugh described her character Sprite's relationship with Kingo, "Sprite and Kingo have a really funny relationship because she's really mad at him, but she still is his best friend. And it's sort of like a sibling relationship in a way because she makes fun of him a lot and it's a very bantery relationship." 
In the present, Sprite is frustrated by her appearance as it causes her to be treated like a child when in reality she's thousands of years old. "She's sort of the adult of the group. She tells everyone when they're doing stuff wrong, and she's bossy and a little bit sassy at times," said McHugh.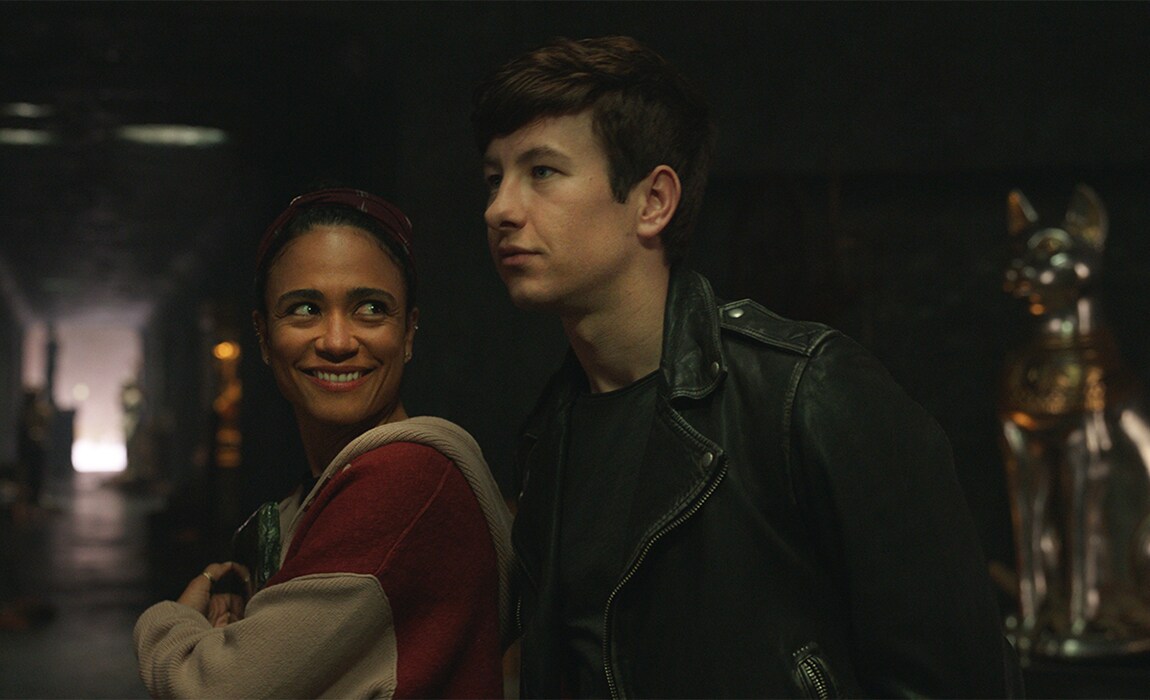 Druig and Makkari are another duo within the Eternals. Barry Keoghan plays Druig, who can control the minds of others using cosmic energy, while Lauren Ridloff plays Makkari, the fastest woman in the universe who happens to be deaf. Druig becomes disillusioned with humanity, while Makkari has become bored with the physical limitations of Earth and turned to books and reading, becoming a librarian of human civilisations. Production designer Eve Stewart said Makkari's speed transferred over to her new hobby: "I think she can read through 1200 pages a minute or something." Though their powers are different, Druig and Makkari share mentalities. >

The other Eternals sign American Sign Language to Makkari, and she signs back. Moore shared, "She is constantly vibrating, she's constantly moving. She herself can sense vibrations, so she can actually hear by feeling in the same way that the deaf community hears music by feeling the vibrations."
From Ajak's perspective, Salma Hayek said, "Druig is the dark one that is always overthinking everything, that asks a hundred questions, and then Makkari is the one that has to know everything, has to know all the facts."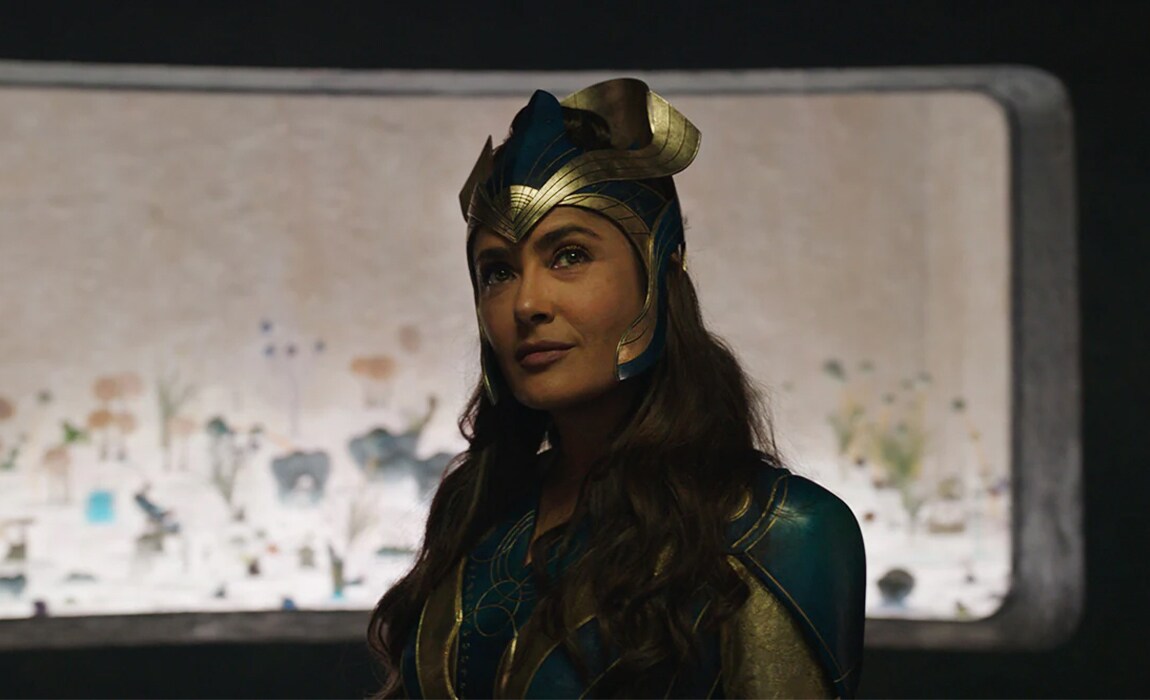 Ajak, played by Salma Hayek, and Phastos, played by Brian Tyree Henry, are the last pairing within the Eternals. Ajak is the matriarch of the Eternals, can heal them, and has a direct line of communication to the Celestials. Phastos is a technological whiz, who "can combine different technologies to create new technologies that are unexpected, and he's the smartest Eternal," said producer Nate Moore. 

Brian Tyree Henry was emotional after being fitted for his costume as Phastos. Differ shared, "Brian was just so adorable. He went through the whole process — he was so scared when he first came because he didn't understand how we were going to turn him into a Super Hero. And so in his last fitting, when it was finished, he put it on with his eyes closed and then looked in the mirror and cried with joy." 
Salma Hayek explained her approach to the character of Ajak: "She doesn't say 'I'm your mother,' it's just the way I played it. I control the information. I decide what to tell them when I tell them, because I'm the only one that can talk to the Celestials… the mother is a lot of the times the leader of a family."
But all of these Eternals must face down creatures called Deviants, which have evolved in the present day. Nate Moore showed early concept art of Kro, a leader of the Deviants. 
Creating villains or frankly creatures who look different than what you've seen before was a real challenge for our design team.
"We think they've done a really good job of — at least, from a texture standpoint and a shape standpoint — creating villains that are distinct and unique." No two deviants look the same.
See the Eternals take on the Deviants for the fate of humanity in Marvel Studios' Eternals, streaming 12 January on Disney+