In the most exciting news for fans of crime, comedy, and huge name stars Steve Martin, Martin Short and Selena Gomez, their new series, Only Murders in the Building starts streaming on Star on Disney+ from Tuesday 31 August.
Sign up to Disney+ now to start streaming these titles, plus more!*
The unmissable Star Original Series not only gives us a hilarious team-up of three icons but also launches with the first three episodes premiering on one night! You can watch the trailer here.
It's Selena Gomez's first leading role in a series since Wizards of Waverley Place and she's alongside two comedy giants, Steve Martin and Martin Short. The three stars also executive produce the series which was created and co-written by Steve, Dan Fogelman (This is Us) and John Hoffman (Grace & Frankie, Looking). The ensemble cast also includes Da'Vine Joy Randolph, Nathan Lane, Jane Lynch, and many more stars. That's some criminally high-class talent.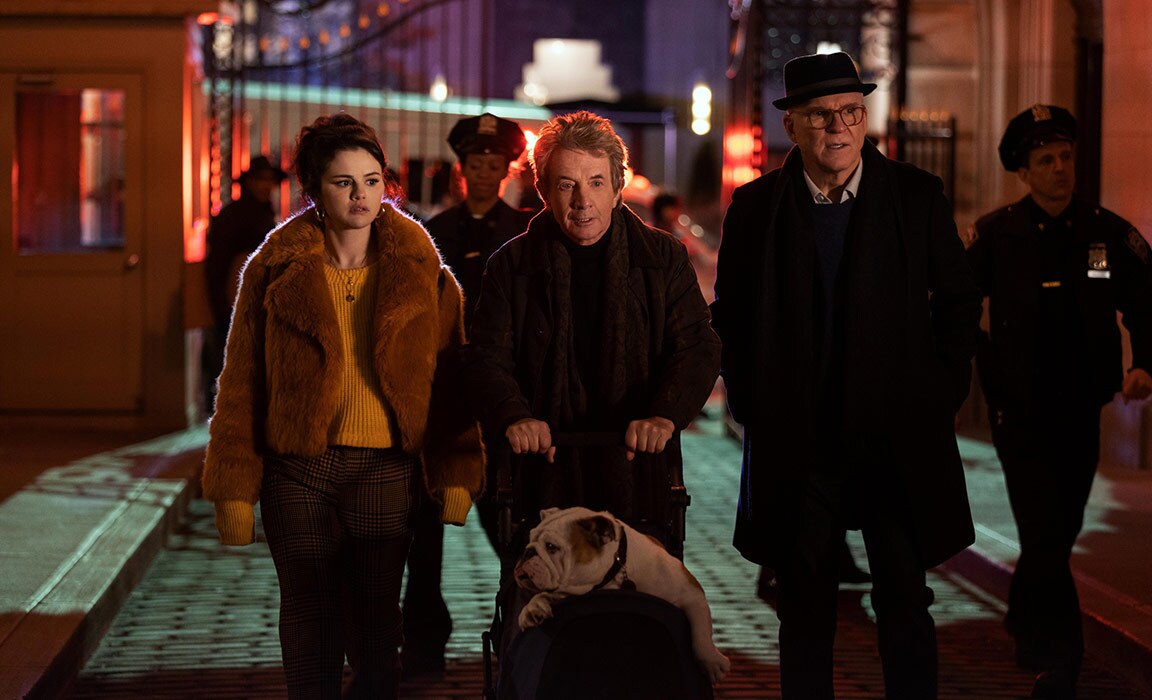 Only Murders in the Building follows three true-crime obsessed strangers who suddenly find themselves wrapped up in one when a death occurs inside their exclusive Upper West Side apartment building. Suspecting murder, the trio investigate and record a podcast to document the case. As they unravel the complex secrets of the building, the endangered trio comes to realise a killer might be living amongst them.
It's full of mystery, suspense, secrets, twists, turns, humour and witty banter. We can't wait to watch the unlikely amateur sleuths crack the case – at least we hope they do – and explore the questions: How well do you know your neighbours? What goes on behind closed doors? The who, the why, the how and the why now of a murder?

To prepare for Only Murders in the Building's premiere, we've staked out some titles on Disney+ starring Steve, Martin and Selena so we can revisit the laughs, classic scenes, and loved characters.
Steve Martin and Martin Short
Father of the Bride (1991)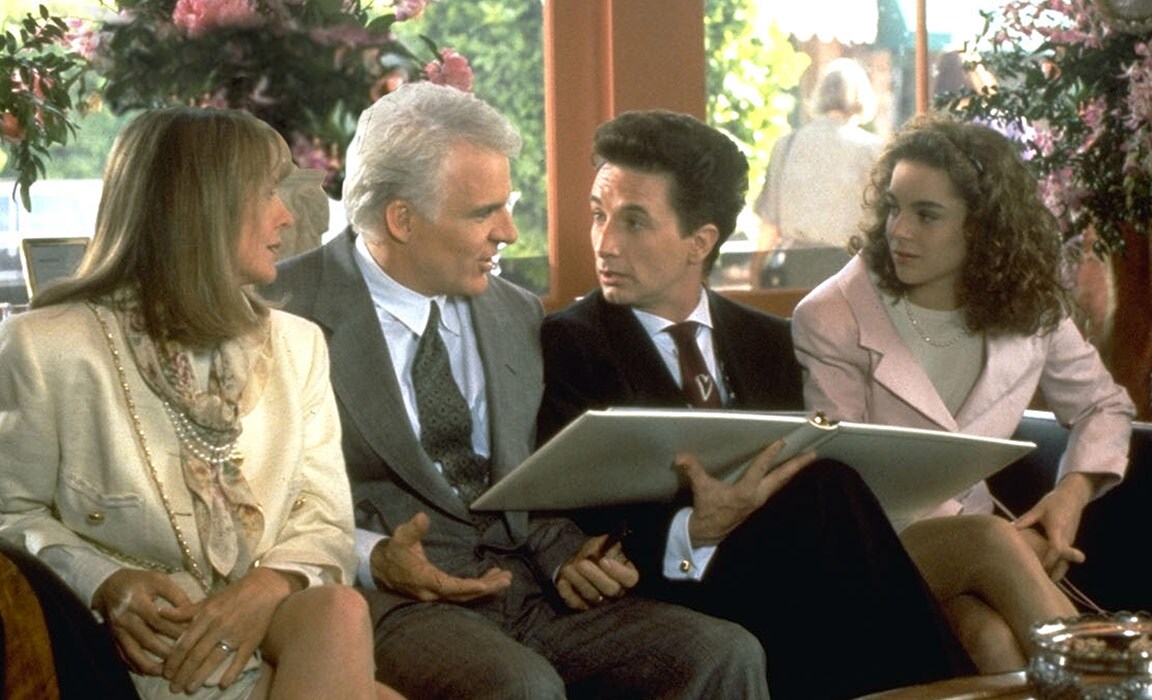 This much-loved classic features side-splitting performances by Steve and Martin Short. Steve is George Banks, a befuddled father who has a hard time letting go of his young daughter when she unexpectedly announces her plans to wed. Short plays, Franck Eggelhoffer, an off-the-wall wedding consultant with a miscellaneous misunderstood (by some) accent and high energy expressiveness. Welcome to the 90s George! Diane Keaton also stars as Nina, George's patient, level-headed wife.

Father of the Bride Part II (1995)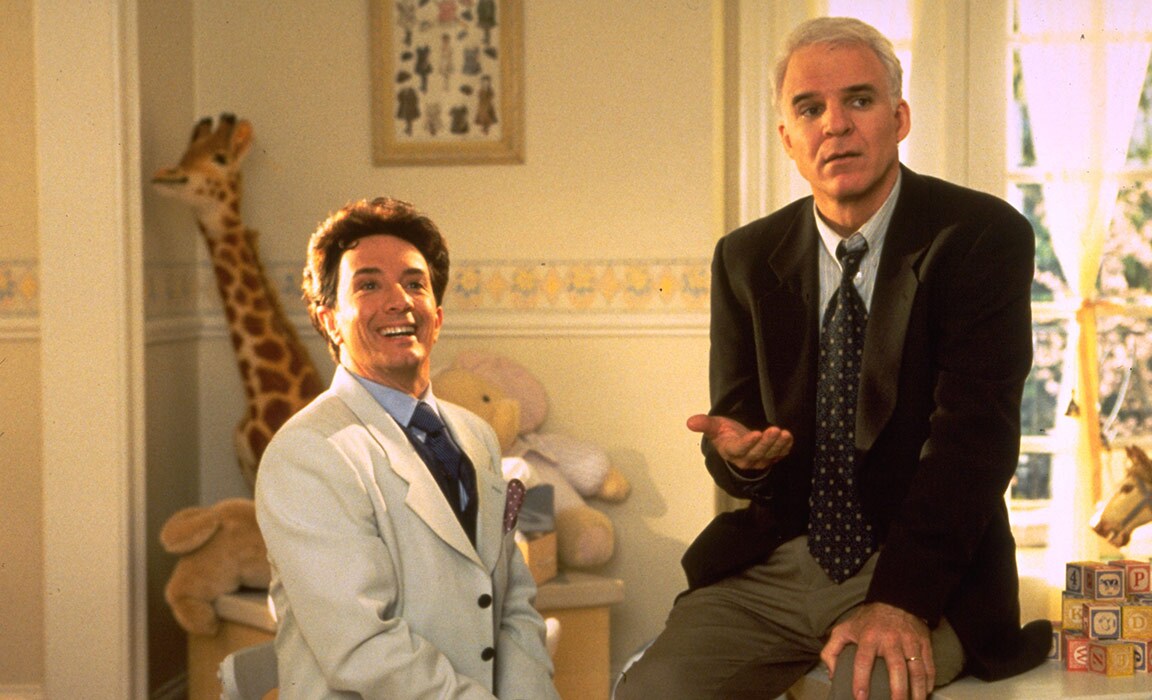 George and Franck return for a double-delivery of big news and big laughs. Having married off his cherished daughter, George is ready to get footloose and fancy-free. So when his daughter and his wife both announce they're pregnant, George finds himself desperately trying to recapture the wild and crazy days of his youth. Franck is there to organise the baby shower and to support the family, especially a very stressed George.

Steve Martin
Bringing Down the House (2003)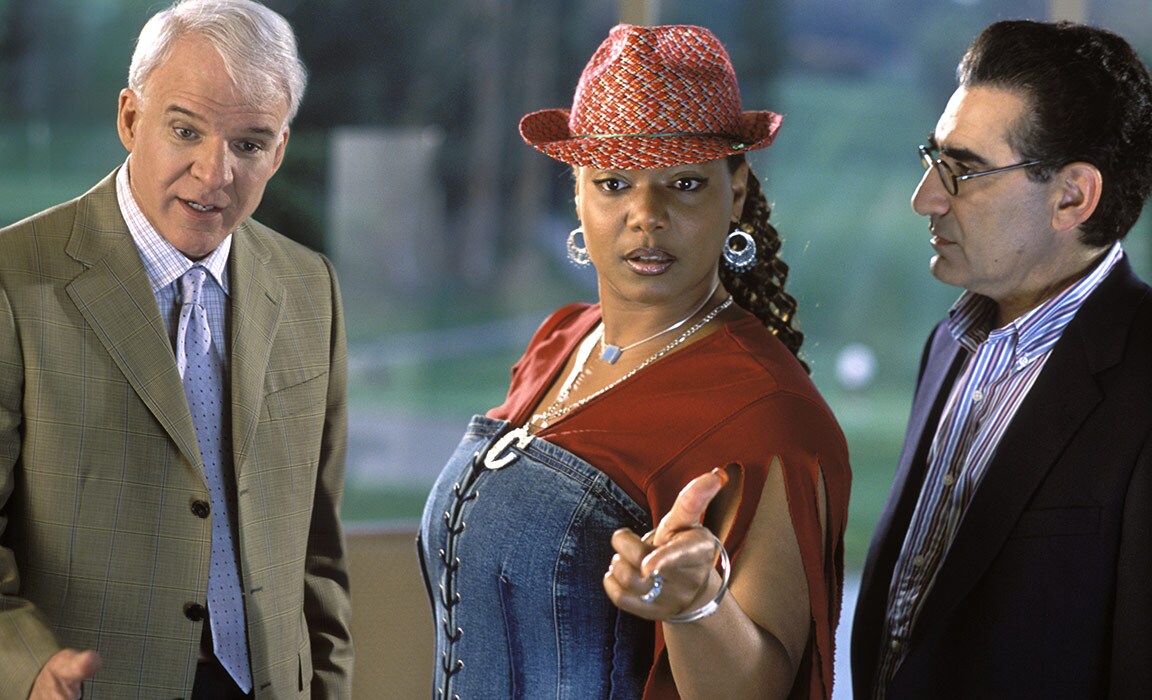 Steve Martin is Peter Sanderson, a divorced, strait-laced, uptight workaholic attorney, who meets a brainy bombshell lawyer on the internet. Expecting his soul mate, he opens the door and finds himself face-to-face with Charlene - who's just escaped from prison. She wants Peter to clear her name and proceeds to wreak havoc on his middle-class life. Queen Latifah stars as Charlene with Eugene Levy and Betty White also appearing.

Cheaper by the Dozen (2003)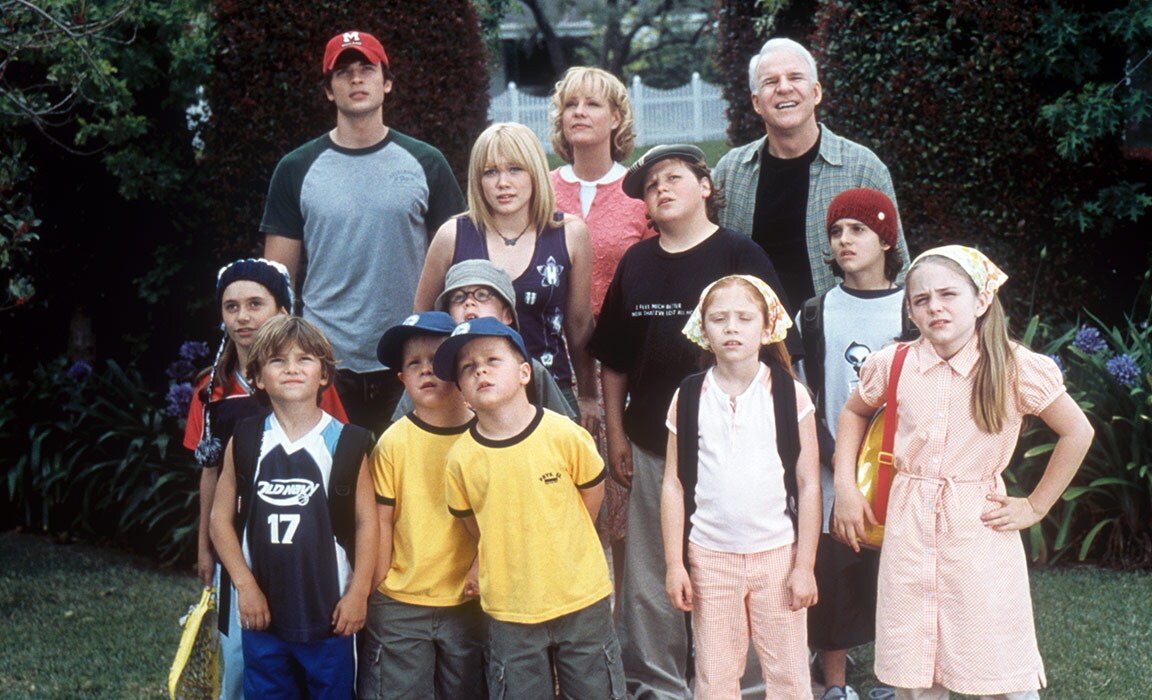 While raising twelve children, middle-aged couple Tom and Kate Baker, played by Steve and Bonnie Hunt, decide to pursue more demanding careers - only to discover that big families and big careers are a difficult mix. Tom has his hands full when Kate heads off on a national tour to promote her book. The movie also features Hilary Duff, Piper Perabo and Ashton Kutcher.

Cheaper by the Dozen 2 (2005)
The Bakers are back! In the sequel, Tom and Kate bring their clan together for a memorable summer getaway. But their dream vacation turns into an outrageous competition with the overachieving, overzealous family of Tom's long-time rival, Jimmy Murtaugh, played by Eugene Levy.
A Simple Twist of Fate (1994)
Steve Martin wrote this movie and plays Michael McCann who lives a solitary and reclusive life until he's surprised by a toddler in his house during the middle of the night. Michael adopts the little girl and, as a single dad, discovers the joys and pain of fatherhood. Catherine O'Hara, Gabriel Byrne and Laura Linney co-star.
The Big Year (2011)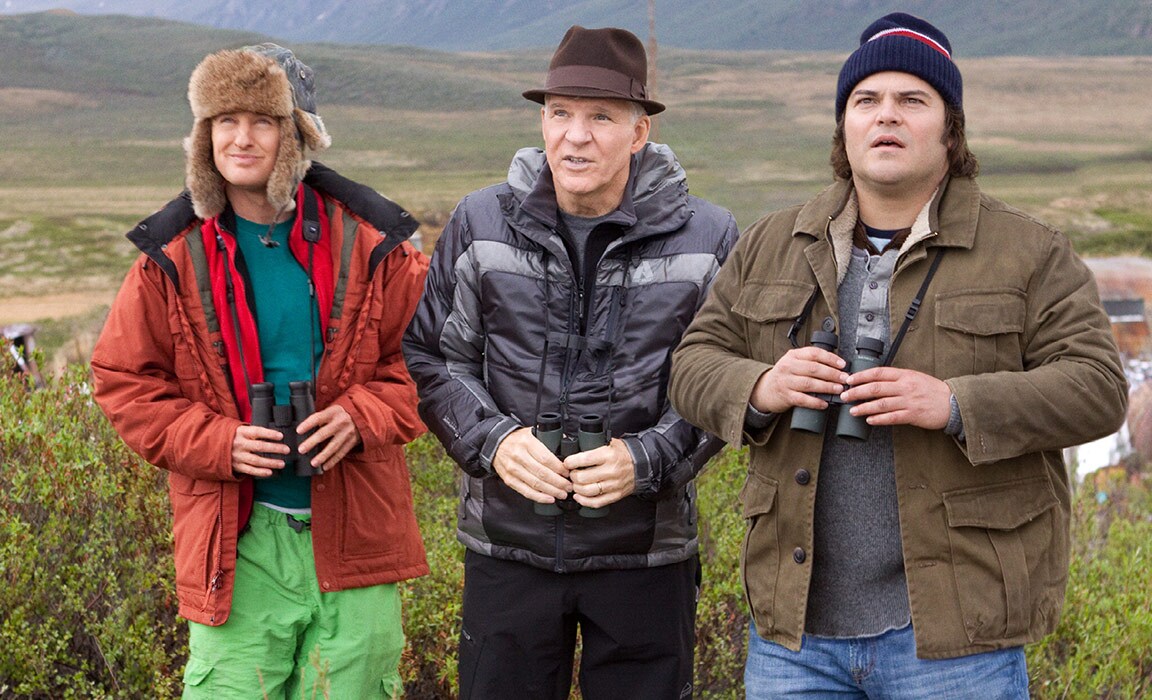 Steve, as Stu Preissler, joins Owen Wilson and Jack Black in a movie about personal crises spawning an incredible adventure and some serious competition. In birding, a Big Year is seeing or hearing as many different species of birds as possible in a calendar year. Three men pursue the Birder of the Year title. They criss-cross the continent, follow migration patterns, and head for storms that force birds to ground.
The Simpsons: Season 9, Episode 22 – Trash of the Titans
In the 200th episode of The Simpsons, after a dirty campaign and a slew of crazy promises, Homer becomes the sanitation commissioner for Springfield replacing Ray Patterson, voiced by Steve. Homer's ineptitude pollutes the town and leads to a drastic solution.
Martin Short
Three Fugitives (1989)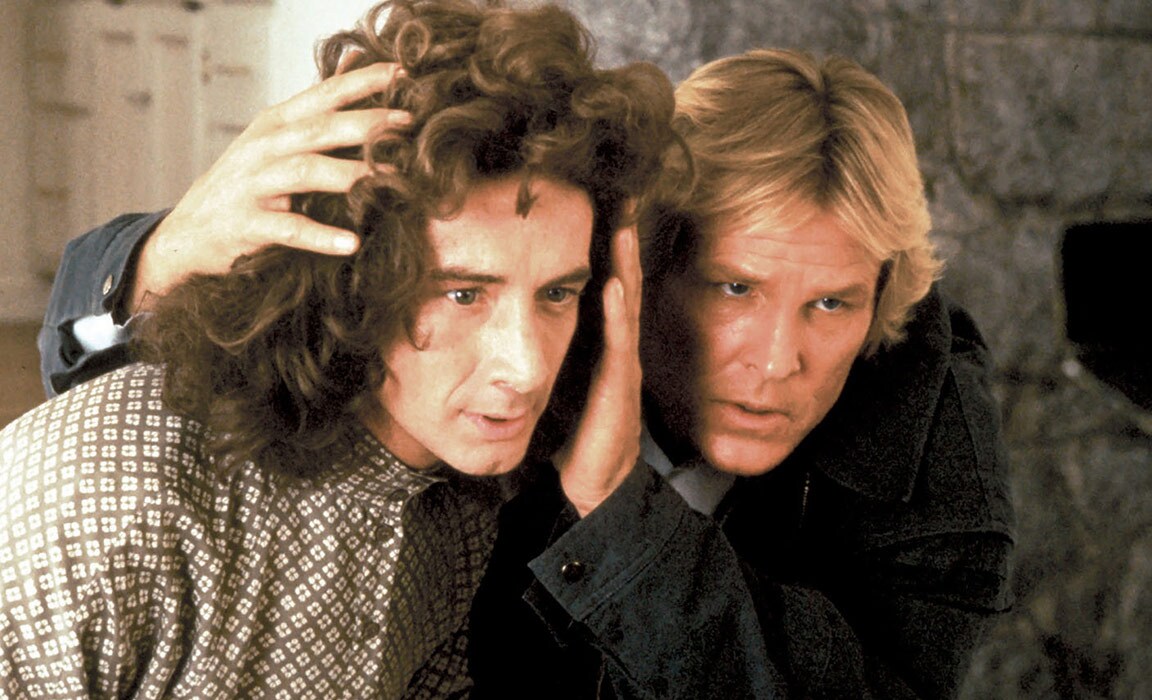 Short plays Ned Perry, an inept, klutzy bank robber who, on his first heist, grabs an ex-bank robber as a hostage. Nick Nolte plays Daniel Lucas, a notorious ex-con trying to go straight, so naturally, no one believes he's innocent or Ned guilty, forcing the mismatched pair to become reluctant partners in crime. Add to the mix-up Ned's adorable six-year-old daughter who desperately tries to keep this very odd couple together. 

The Santa Clause 3: The Escape Clause (2006)
It's a gift to see Short as a baddie opposite Tim Allen's Scott Calvin/Santa whose character schemes to take over the famous red suit. When Scott's in-laws come to visit, the holidays take a chaotic turn as he discovers a way out of his "Santa Clause" and the mischievous Jack Frost puts a freeze on Christmas! Unless Scott can get his job back in the St. Nick of time, it's going to be a very glacial "Frostmas" all over the world!
Frankenweenie (2012)
When you can nab Short, you may as well make the most of it and Tim Burton did just that for Frankenweenie. Short voices three characters in this comic twist on a classic tale. After unexpectedly losing his beloved dog Sparky, young Victor harnesses the power of science to bring his best friend back to life — with just a few minor adjustments. He tries to hide his home-sewn creation, but when Sparky gets out, Victor's fellow students, teachers and the entire town learn that getting a new "leash on life" can be monstrous. Short plays Victor's Dad, Mayor Burgemeister, and Victor's rival, Nassor.
How I Met Your Mother: Season 7, Episodes 2 – The Naked Truth, 5 - Field Trip and 15 – The Burning Beekeeper
Short is Garrison Cootes, Marshall's boss at an environmental law firm, a dream job for Marshall. Cootes is a swamped, overworked, pollution-hating, vegan food–loving guy who's tough when it counts – as Ted discovers when he and Cootes nearly come to blows over spring rolls at Lily and Marshall's housewarming party.
Arrested Development Season 2, Episode 10 - Ready, Aim, Marry Me!
Jack Dorso, aka "Uncle" Jack, is an ageing former media personality and fitness buff who is carried everywhere due to loss of sensation in his legs. When the Bluth family find themselves in hot water, George Sr. enlists the old family friend to bail them out…but the eccentric Uncle Jack always wants something in return. Short is hilarious as Jack and delivers endless edgy laughs.  
The Simpsons: Season 29: Episode 2 - Springfield Splendor
Lisa experiences a strange recurring dream, she takes up art therapy to express her inner thoughts. Together with Marge, she creates the hit graphic novel 'Sad Girl' which becomes a stage musical. Marge receives all the credit and Lisa is humiliated. Short voices theatrical director, Guthrie Frenel who adapts Lisa's story for the stage, but proceeds to change everything.
Selena Gomez
Wizards of Waverly Place (2007-2010)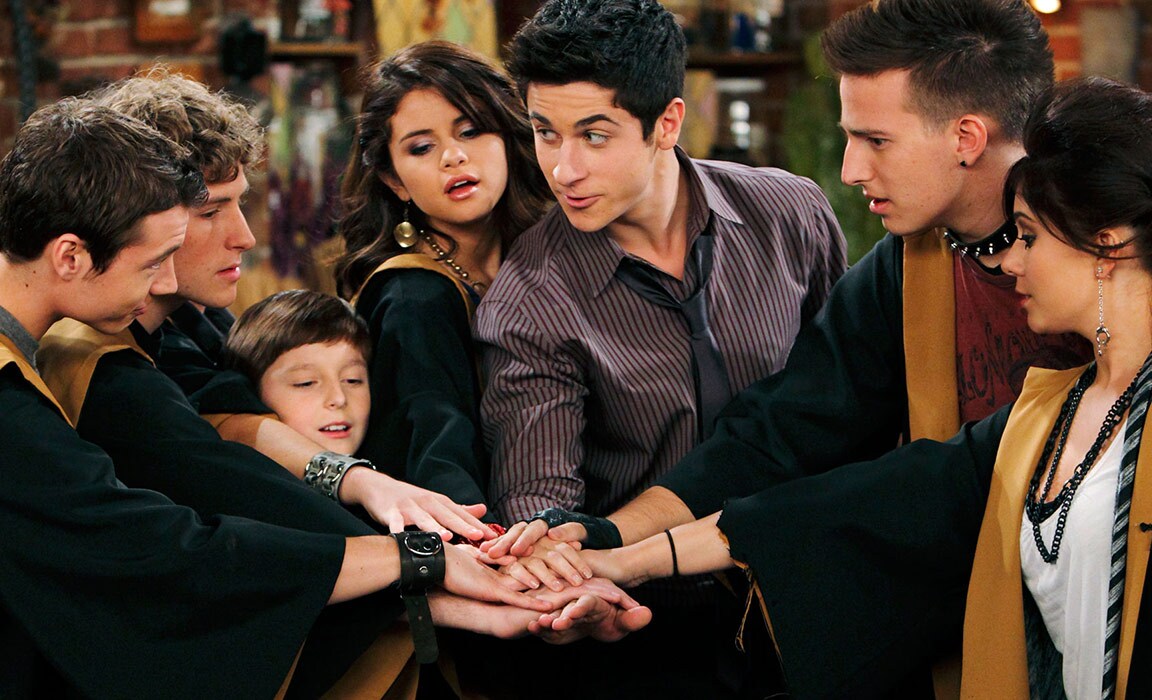 Selena's antics as Alex - whose magic gets her into more trouble than out of it - saw her charm her way into the hearts of Disney fans around the world. Alex, Justin and Max Russo are not ordinary kids, they are wizards in training. While their parents run the Waverly Sub Station, the siblings struggle to balance their lives, school, friends and family with learning to master their extraordinary powers.

Princess Protection Program (2009)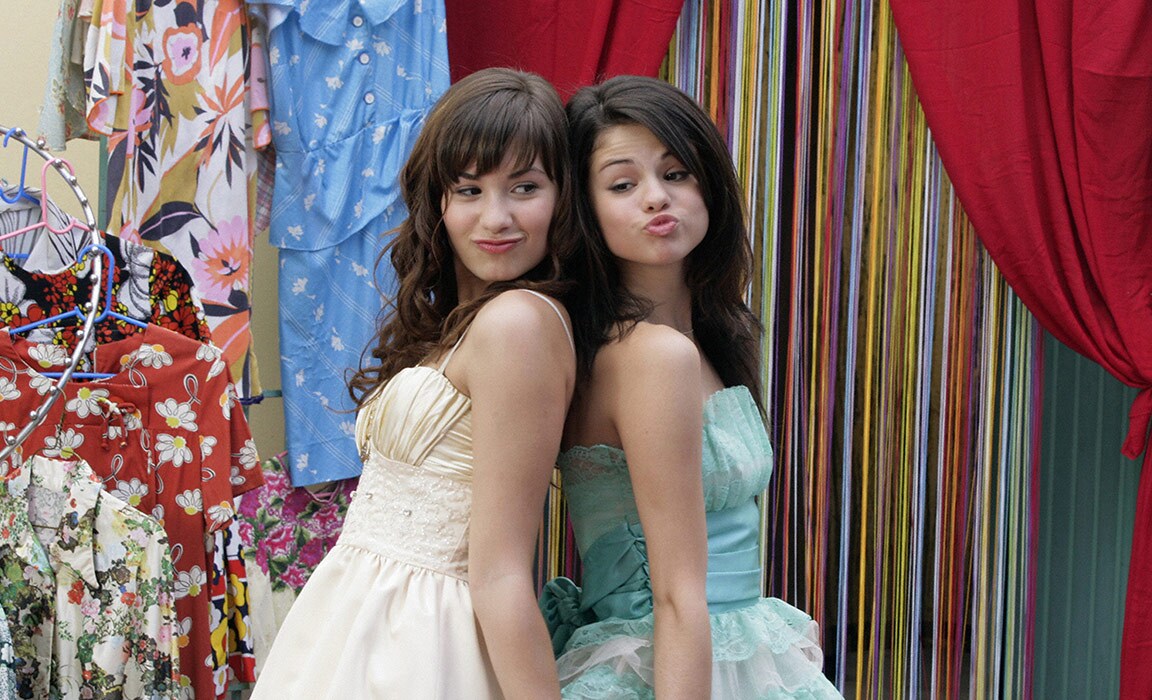 This movie pairs Selena with another Disney queen of the screen, Demi Lovato. Royalty and roughing-it collide as a princess moves in with a tomboy. Selena is Carter, a small-town girl who couldn't be more different from Lovato's Rosalinda, a South American Princess from the country of Costa Luna. The girls are thrown together after Carter's father, an agent in the covert Princess Protection Program, rescues Rosalinda from a military takeover. It's up to the two to devise a plan to take down Costa Luna's dictator and return Rosalinda to her rule.

Ramona and Beezus (2010)
Selena plays Beezus, the big sister of Ramona who's a little girl with a very big imagination and a nose for mischief. Beezus is trying to survive her first year of high school while Ramona's creative ideas to earn money backfire, keeping the whole family on their toes. Through all the ups and downs of childhood, Ramona and Beezus learn that anything's possible when you believe in yourself and rely on each other.
That's just a selection from the long list of iconic and unforgettable roles of Steve Martin, Martin Short and Selena Gomez you can find on Disney+
We're already on the edge of our seat at the idea of witnessing them together in a murder mystery comedy and joining them for each step of the investigation. 
Set aside the evening of Tuesday 31 August, and every Tuesday that a new episode drops, to watch the high stakes hijinks of the Star Original Series, Only Murders in the Building.