Witnessing Andrea 'Andy' Sachs transform from awkward duckling in a lumpy blue sweater to a fashionista swan decked out in luxury designer wear will always be a thrill to watch again and again. While you're at it, we've rounded up our most fashionable moments on Disney+ to ensure your movie night hits all the right style notes. 
The Devil Wears Prada (2006)
It's our top wardrobe makeover moment of all time. Pounding the New York pavement in brands like Fendi, Chanel, and of course, Prada—Andy Sachs (Anne Hathaway) can do it all, under the careful eye of Miranda Priestly (Meryl Streep). Andy is your girl, whether you need to secure an unpublished Harry Potter manuscript, or need help remembering guests' names at Paris Fashion Week. Is she wearing the Chanel boots? Yeah, she is.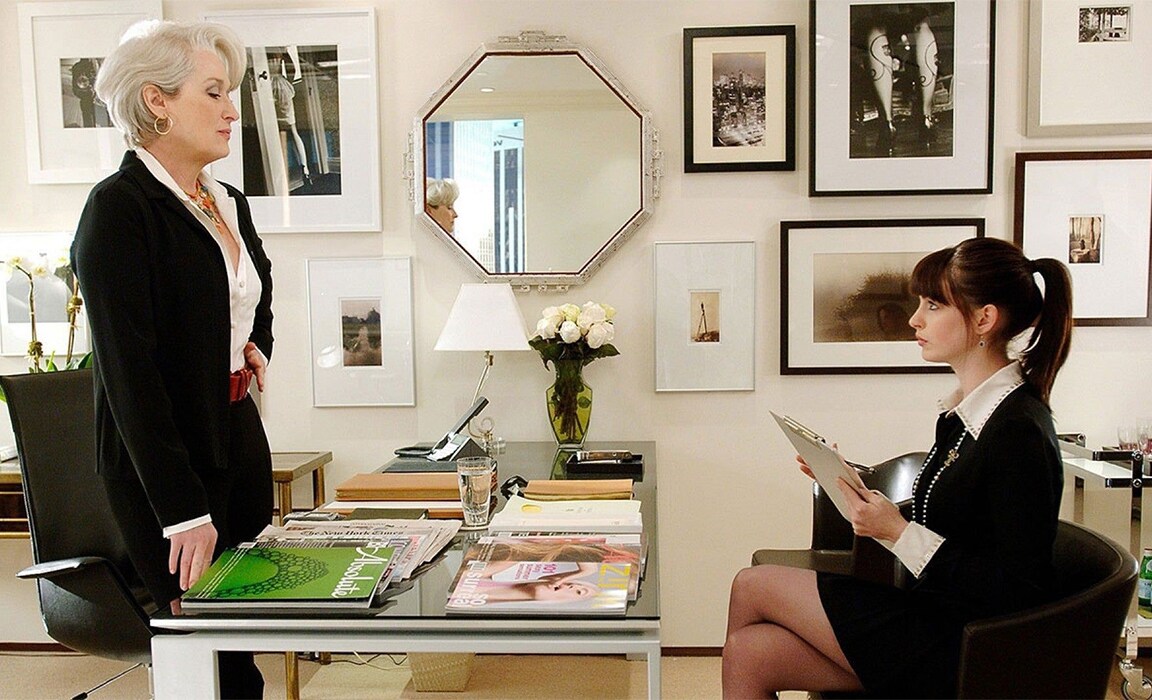 Confessions of a Shopaholic (2009)
"You speak Prada?" "Occasionally". We're not sure whether we'd take financial advice from shopaholic Rebecca 'Becky' Bloomfield, but we're definitely taking style notes. Laugh out loud as the hilarious Isla Fisher uses her magic cards aka credit cards to secure all her Marc Jacobs underwear and Gucci bags, not to mention her Prada. Fighting with a woman over discounted Pucci boots at a sample sale is all in a day's work for The Girl in the Green Scarf.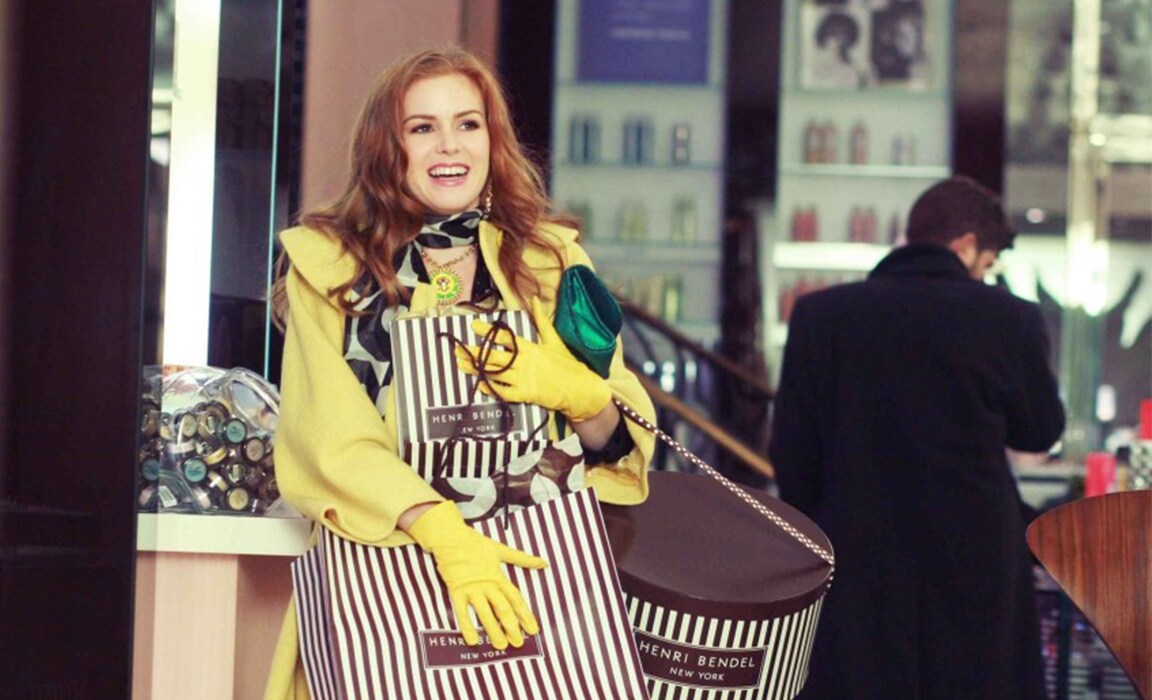 The Princess Diaries (2001)
If you're in the mood for more Anne Hathaway, look no further than the film that launched a thousand sleepovers. We can't help but laugh at the typical 2000s makeover scene where Mia Thermopolis goes from average high school student to Genovian princess. Enter Paolo, the royal resident hair and makeup guru who hilariously finesses Mia's look. Bonus points for Mia's gorgeous strapless white gown and tiara number during the ball scene.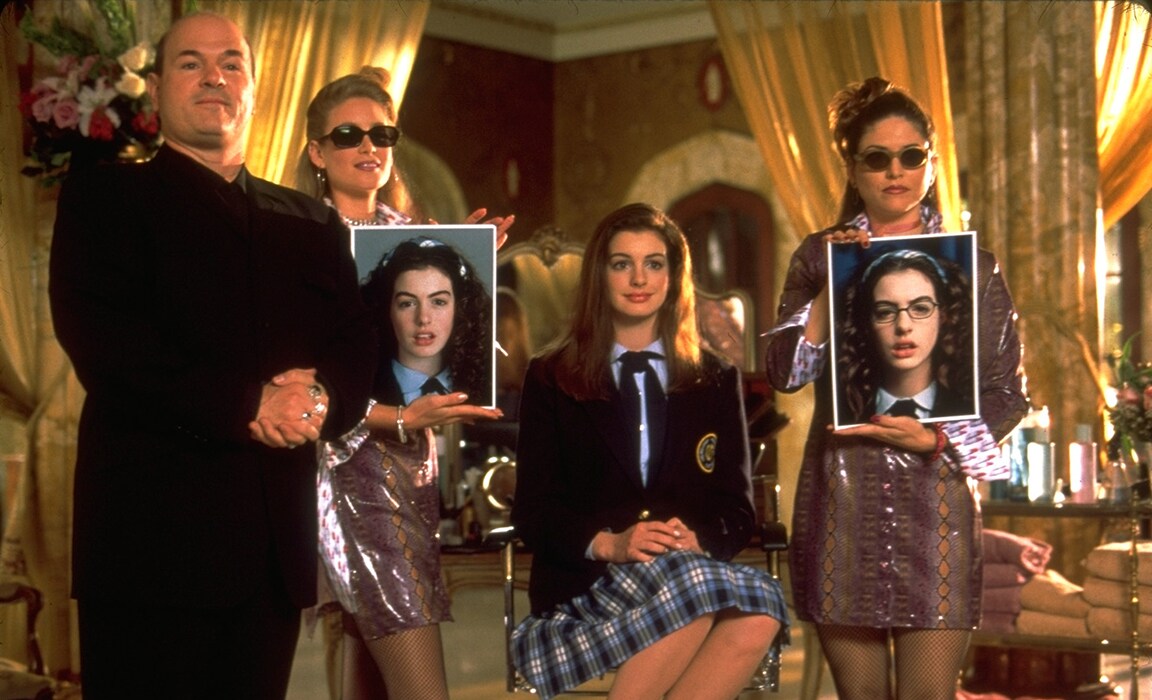 Cinderella (2015)
In this live-action remake of the fairytale, we all hold our breath as the Fairy Godmother (Helena Bonham Carter) turns Ella's (Lily James) tattered pink dress into the iconic blue cloud of a gown. Her ratty ballet flats are also given a magical makeover into glass slippers. In real life, the shoes were made of Swarovski® crystals and the dress was made with fine layers of fabric, a corset and a petticoat. Don't miss the gorgeous costumes of her fellow ball attendants.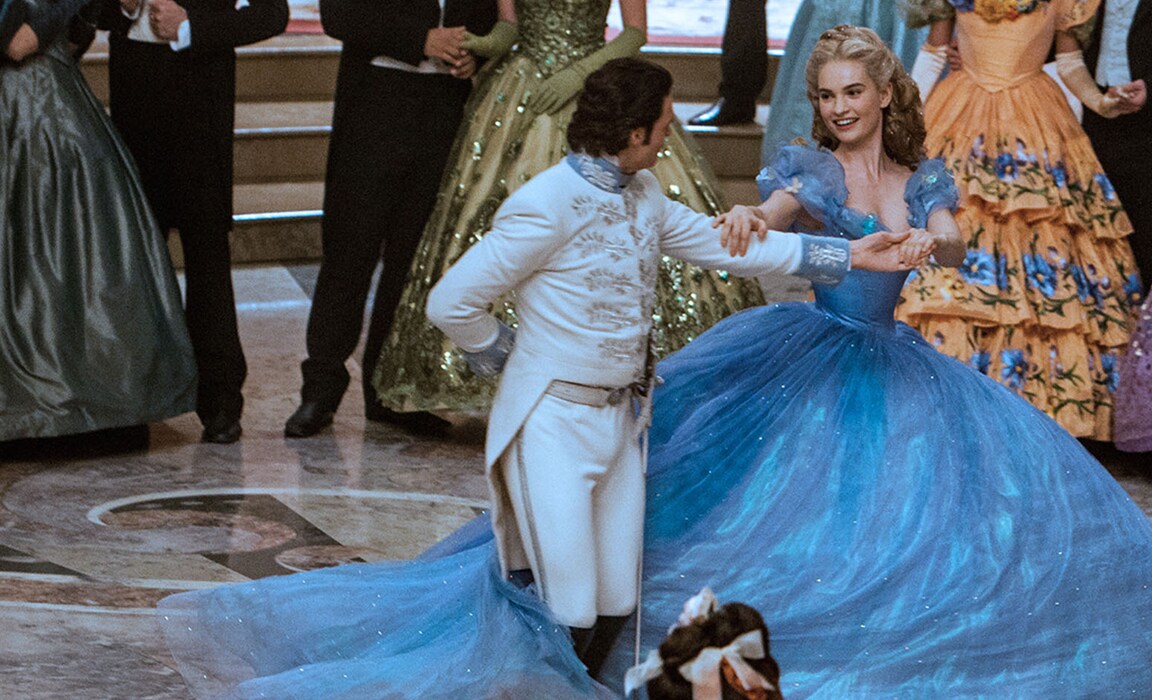 Pretty Woman (1990)
"Big mistake. Huge." We've wanted to have a Rodeo Drive shopping spree ever since watching this ultimate heartwarming rom-com. Fall in love with Julia Roberts as Vivian and all of her wardrobe choices— good luck with choosing just one: the timeless and classy brown polka dot dress, the stunning red evening gown with full-length white gloves, even those shiny black thigh-high boots.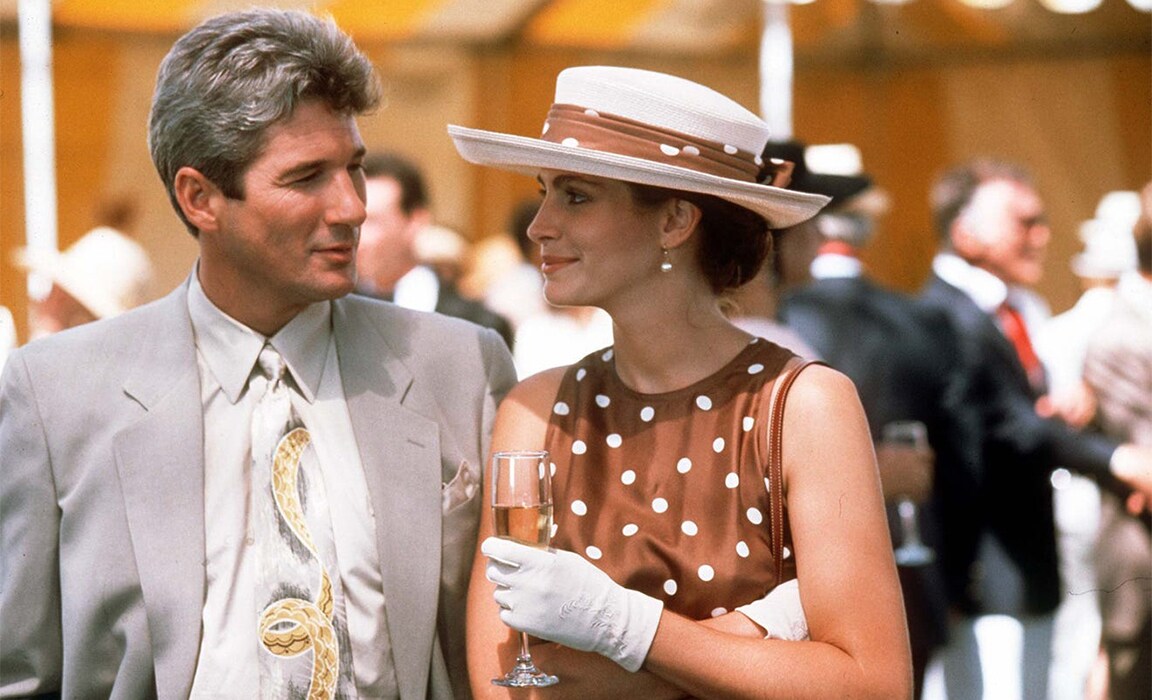 101 Dalmatians (1996)
Cruella De Vil genuinely strikes fear into our hearts as the highly motivated, impeccably dressed fashion designer with killer taste. Scene after scene, Glenn Close truly delivers as the intimidating fashion boss at the House of De Vil—who prefers to stick to two shades. All of the monochromatic ensembles are pleasing to the eye, complemented by her dishevelled split dye black and white hair. Don't forget to stream the sequel, 102 Dalmatians, straight after. 
For the origin story of Disney's most stylish villain, watch Emma Stone portray the rebellious and ridiculously talented young designer become the revenge-bent and wicked queen of mean in Cruella.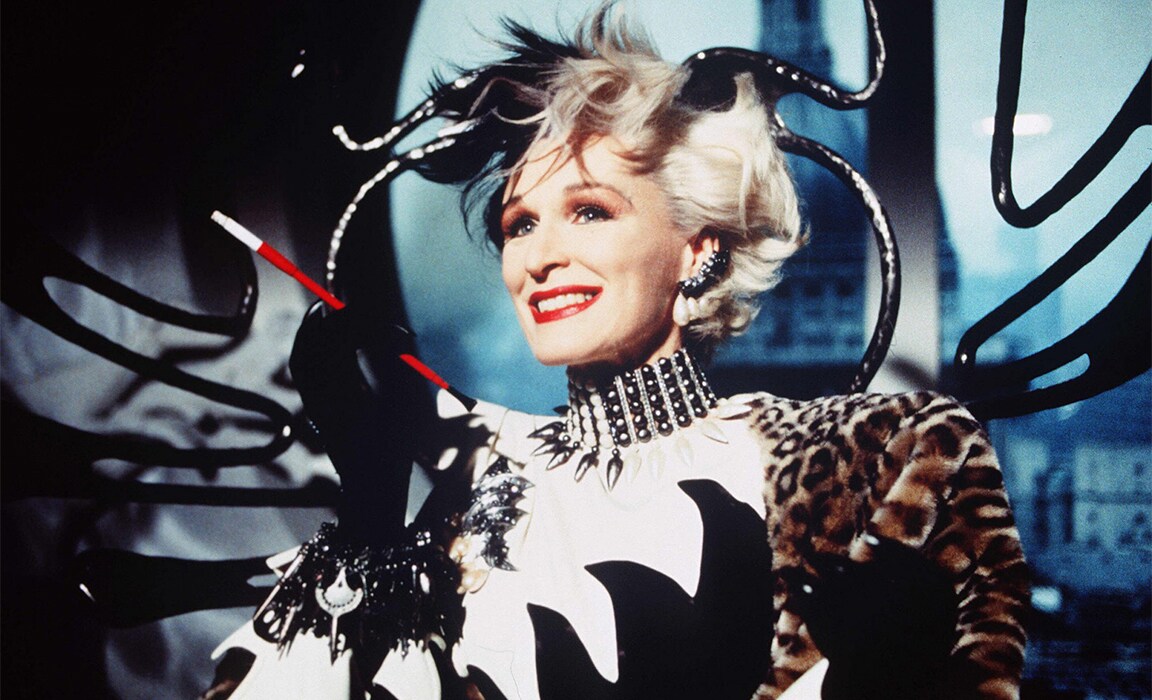 Romy and Michele's High School Reunion (1997)
From start to finish, gal pals Romy and Michele (Lisa Kudrow and Mira Sorvino) rock some pretty memorable 90s looks. Sleek black power suits, pastel candy colours, patterned two-piece outfits and hair styled in elaborate up-dos. Then comes that unforgettable moment when they make an outfit change mid-reunion and stay true to themselves with DIY matching Lycra micro dresses, glittery chokers and shimmery mules, all set to Cyndi Lauper's Time After Time.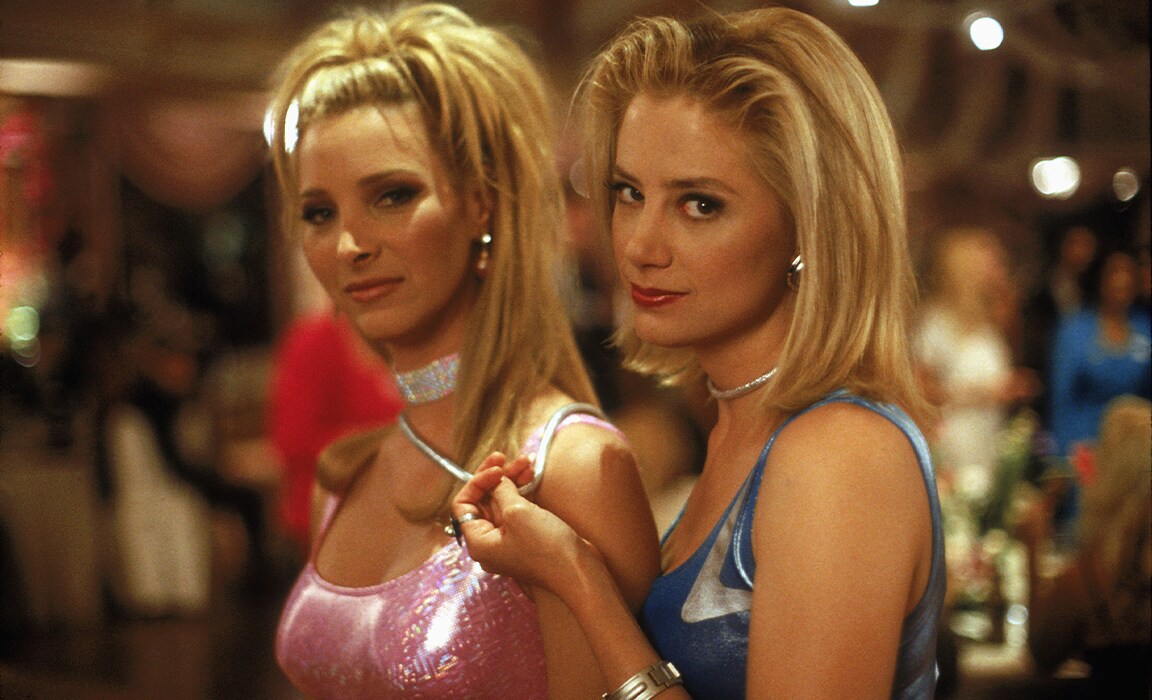 Strike a pose and stream even more fashionable moments on Disney+:

• 27 Dresses

• Absolutely Fabulous the Movie
• Alice in Wonderland (2010)
• Beauty and the Beast (2017)
• Black is King
• Black Swan
• Coyote Ugly
• Cruella
• Jane By Design
• Moulin Rouge!
• Romeo + Juliet
• The Greatest Showman
• The Royal Tenenbaums