For 15 years we've been riding alongside #95, our favourite faster than fast racer Lightning McQueen. On the anniversary of the first Cars movie, we're revved up and on the edge-of-the-passenger-seat ready to experience all of Lightning's action-packed adventures.
Although Lightning has several Piston Cup trophies, it's his journey throughout the three Cars feature films from being a winning-obsessed hotshot to the guy who always has his friends' backs ( ...boots?) that makes him the ultimate champ.
Along the way, Lightning found himself an unbeatable pit crew of amazing, kind, wise, and funny characters who helped him, guided him, and taught him what truly matters —tractor tippin', drives that aren't races, fun, and friendship.
Watching underdogs succeed, the rush of high-speed races, the laughs, and the wonderful relationships Lightning has with Sally, Mater, Doc Hudson, Cruz Ramirez, plus Luigi, Guido and the other residents of Radiator Springs drive us back again and again to Cars.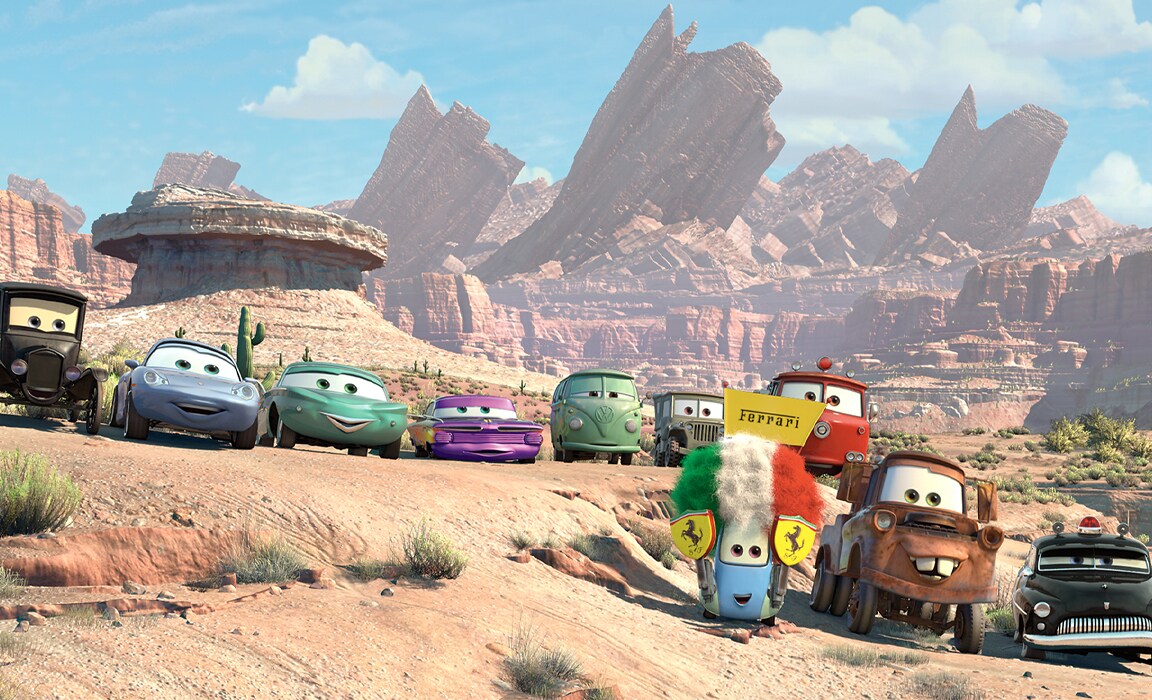 Join us on a trip through the movies and some shorts featuring Lightning McQueen and friends that you'll find on Disney+
Cars (2006)
Aspiring champion race car Lightning McQueen (voiced by Owen Wilson) is living life in the fast lane. He's poised to realise his lifelong dream and become the first rookie ever to win the Piston Cup. But, Lightning's overly confident and win-at-all-cost attitude backfires when he loses his lead and loses his team. On his way to California for the tiebreaker, Lightning hits a detour and gets stranded in Radiator Springs, a forgotten town on Route 66. There he meets Sally, Mater, Doc Hudson and a heap of hilarious characters who help him discover there's more to life than trophies and fame. The more he learns about Radiator Springs and the cars that live there, the more he reevaluates who he wants to be.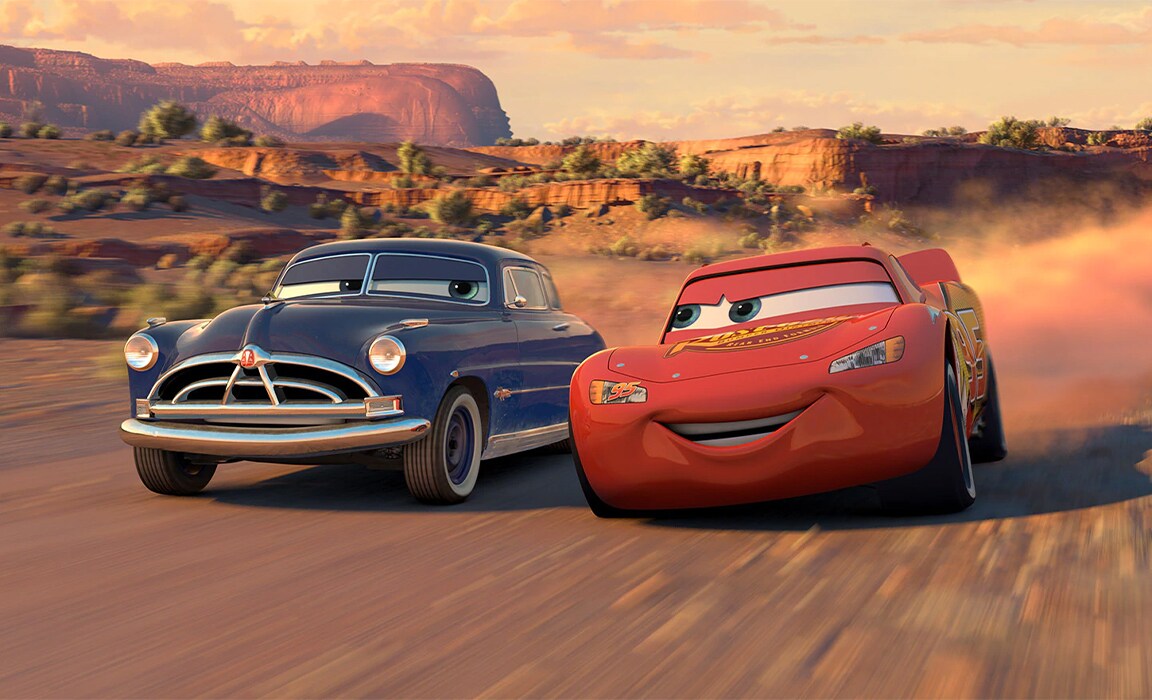 Cars 2 (2011)
With four Piston Cup championships under his rubber belt, Lightning McQueen has become a worldwide celebrity. After his latest win, Lightning returns home to enjoy life in the slow lane for a while with sweetheart Sally, best friend Mater and the rest of his Radiator Springs family. When Mater prompts Lightning to enter the first-ever World Grand Prix, the two take their unlikely friendship to exciting new places overseas. But the road to the championship is filled with plenty of potholes, detours and hilarious surprises when Mater gets caught up in an intriguing adventure of his own: international espionage! Now our two heroes are not only racing across the world, they're racing to save the world.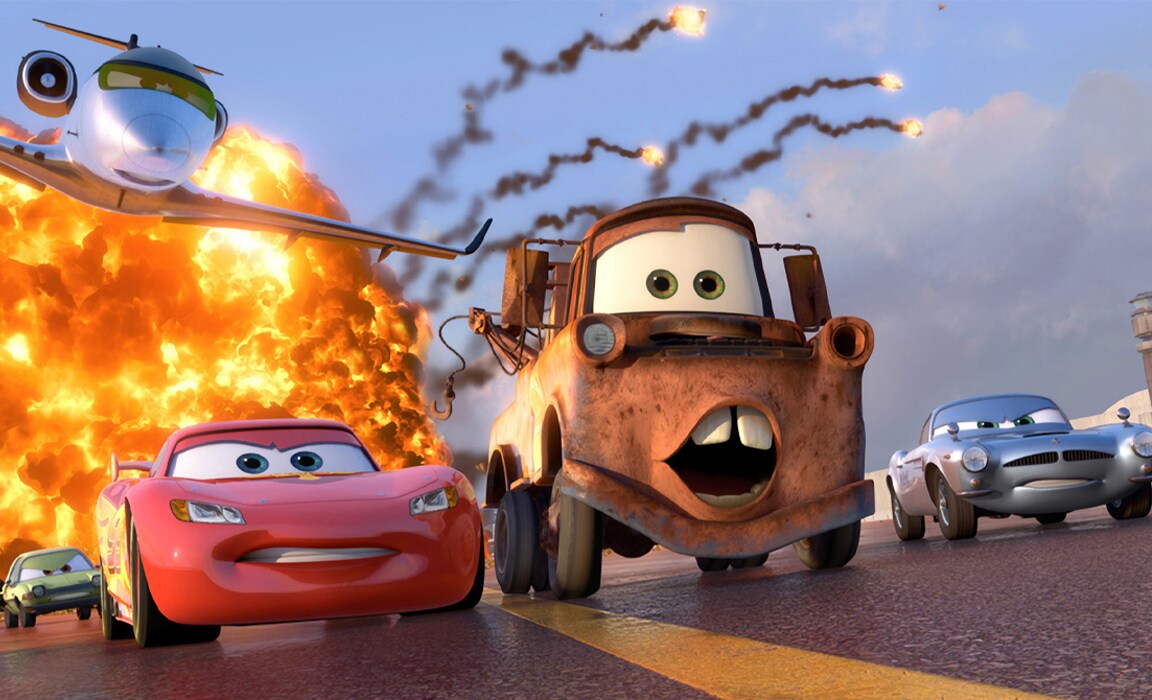 Cars 3 (2017)
Lightning McQueen is a world champion and a legend of racing, but everything is changing and he's losing grip on what he knows. Blindsided by a new generation of blazing-fast racers led by arrogant hotshot Jackson Storm, who has been built to be unbeatable, Lightning is suddenly sidelined and pushed from the sport he loves. We know #95 never gives up and to get back on track he'll need the help of eager young racing technician Cruz Ramirez, inspiration from the late Fabulous Hudson Hornet, new friends and a few unexpected twists and turns of fate.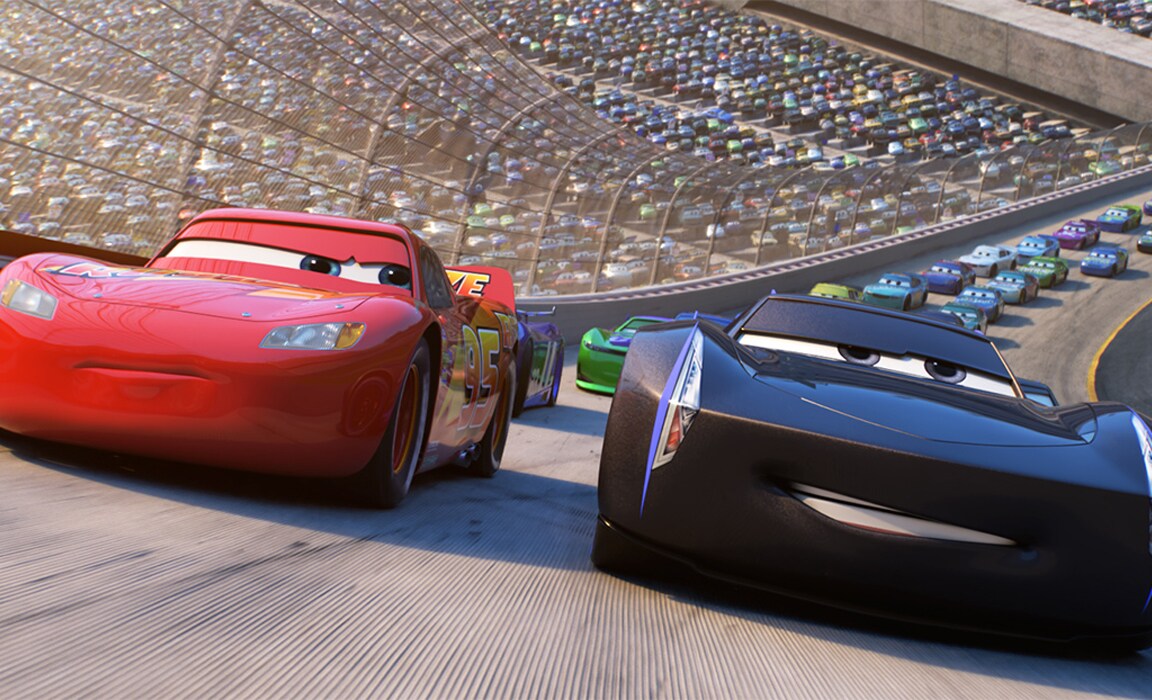 Cars Toon: Mater the Greater (2008)
Cue the fanfare and don't turn away from the action! Mater is a famous daredevil who does all kinds of stunts. Lightning becomes an unwilling participant in Mater's greatest stunt ever.
Cars Toon: Monster Truck Mater (2010)
Mater is a professional wrestler who works his way up the ranks from amateur to world champion monster truck wrestler. Mater wrestles all kinds of characters along the way. When faced with his biggest opponent yet, Mater tags in his "tag team partner", Frightening McMean.
Cars Toon: Heavy Metal Mater (2010)
Mater is a rock star in a heavy metal band. He starts out in a garage band and rises to the top with his hit song "Dad Gum". Lightning joins him on stage in the middle of a huge concert, and they rock into history.
Cars Toon: Time Travel Mater (2012)
When a clock lands on Mater's engine, he travels back in time to 1909 where he meets Stanley, an ambitious young car on his way to California. With the help of Lightning McQueen, Mater alters history by convincing Stanley to stay and build Radiator Springs. Stanley meets Lizzie and they commemorate the opening of the new courthouse with their wedding.
Cars Toon: Hiccups (2013)
When Lightning gets the hiccups after slurping oil, everyone in Radiator Springs thinks they have the cure. From weird to even weirder, one of the cures has to work!
Cars Toon: The Radiator Springs 500 1/2 (2014)
A leisurely drive turns precarious as Baja racers descend on the town and challenge Lightning McQueen—the fastest car in the north, south, east and west— to an off-road race. While Mater's directions send the racers off course, his jokes are right on course.
Swap potholes for putt holes
If you're in Adelaide, head to Pixar Putt and tackle the #95 hole as well as holes inspired by the stories and characters from other beloved Disney and Pixar films including Toy Story, The Incredibles, Monsters, Inc., Inside Out, Soul, Luca and more. Pixar Putt is an open-air attraction and a lot of fun for players of all ages. Tickets are on sale now and the season runs from 24 September - 17 October.