The 2013 Academy Award®-winning animated film Frozen has it all: a gorgeous setting; an inspiring tale of true love, family and loyalty; acts of courage; beloved characters; adventure, humour and heart and songs you want to belt out at every opportunity. But, how could you possibly recreate the magic of Frozen and Arendelle–including falling snow–in a theatre?
You bring together a cast and crew of glacial-sized talent and use the latest technical innovations to produce an unforgettable experience, that's how. 
It's time to freeze the summer, in the best way, because Frozen the Musical is now playing at Sydney's Capitol Theatre and will be at Melbourne's Her Majesty's Theatre from 9 June. The Australian production of the hit Broadway musical is the first in the world outside the United States. 
We're going behind the curtain to discover what's needed to create such an epic and spectacular live show including 440 exquisite handmade costumes, one with over 18,000 hand-sewn beads and Swarovski crystals. We think you can guess which one. So. Much. Glorious. Sparkle.
12 New Songs
We're in a flurry because Frozen the Musical features 12 new songs by Academy Award®-winning songwriters Kristen Anderson-Lopez and Robert Lopez, who wrote the music and lyrics for the animated film. Plus, there are all the songs you already love and hearing Jemma Rix perform 'Let It Go' live is as breathtaking as you can imagine. As Elsa accepts herself and embraces her powers, the ice palace appears and her coronation gown transforms into her stunning ice dress before our eyes. It's showstopping, theatrical sorcery and we're still getting chills.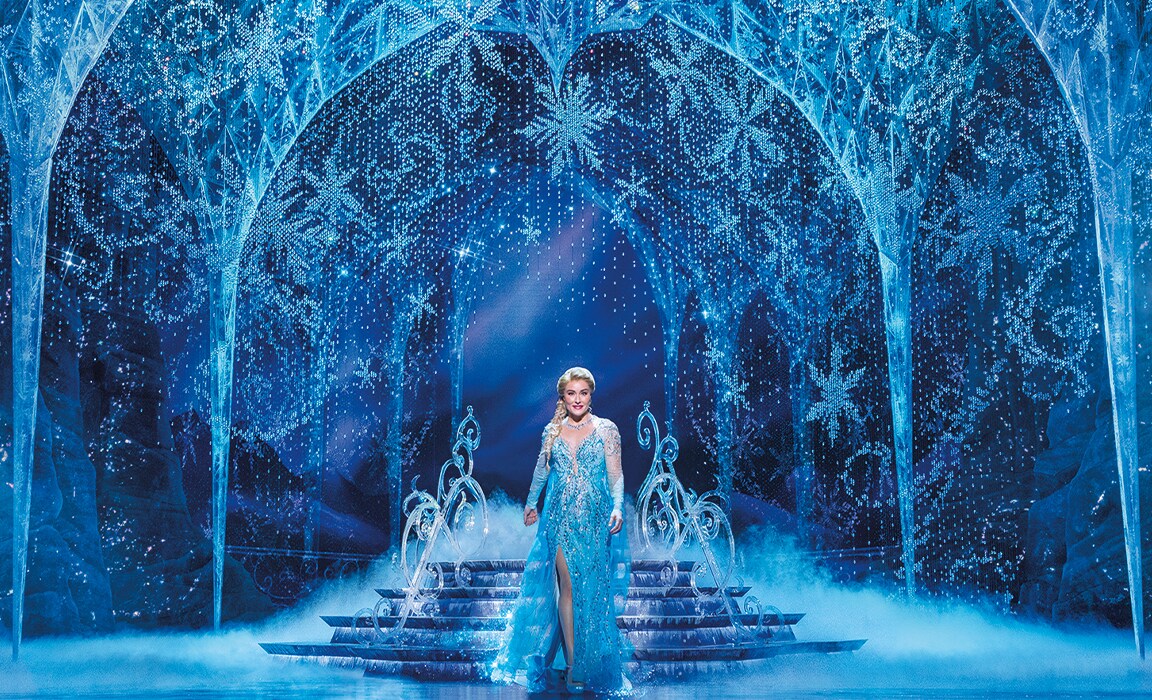 The Cast and Crew
Jennifer Lee, the film's Academy Award®-winning screenwriter and co-director, reimagined and expanded the original story for the stage along with acclaimed theatre director Michael Grandage. This means new scenes, extra dance numbers, fresh jokes, and even more heart-melting moments. 

The production and design team is full of Tony® Award winners. Choreography is by Rob Ashford, scenic and costume design by Christopher Oram, lighting design by Natasha Katz, and puppet design by Michael Curry.

There are 38 people in the cast which features Jemma Rix as Elsa, Courtney Monsma as Anna, Thomas McGuane as Hans, Sean Sinclair as Kristoff, and Matt Lee as Olaf. Wait, what? Yes, Olaf becomes an adorable reality in the hands of Lee as he masters singing, dancing, puppetry, and those great one-liners all at once.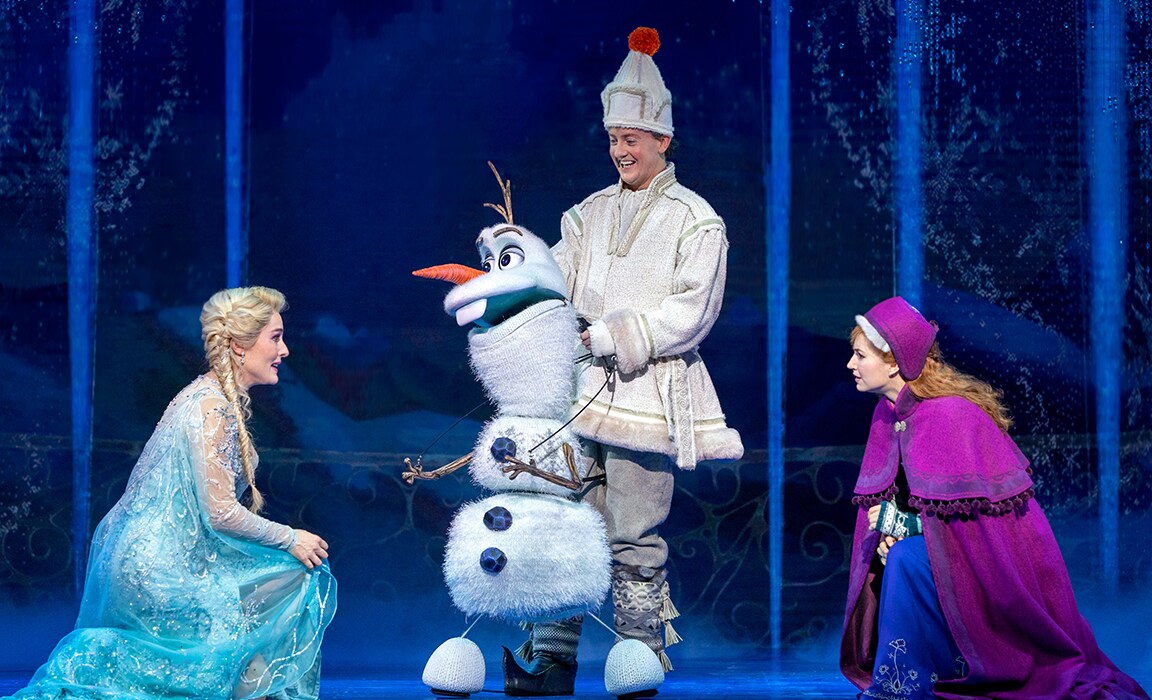 The Design, Stage and Scenery
The technical production of the show is mind-blowing with physical wooden sets 'freezing' within moments. They've brought to life the beautiful setting of Arendelle in ways unimaginable including the castle interior, the mysterious forest, the mountain top and Elsa's ice palace.
• Draws inspiration from the diverse geography, mythology and cultural traditions of Iceland, Norway, Denmark, Sweden, and Finland
• There are 53,000 Swarovski crystals in Elsa's ice palace

• 65 tonnes of scenery

• 45 tonnes of that is flying scenery!
• There are 75 million individual video pixels, the size of your pupil, used from floor to ceiling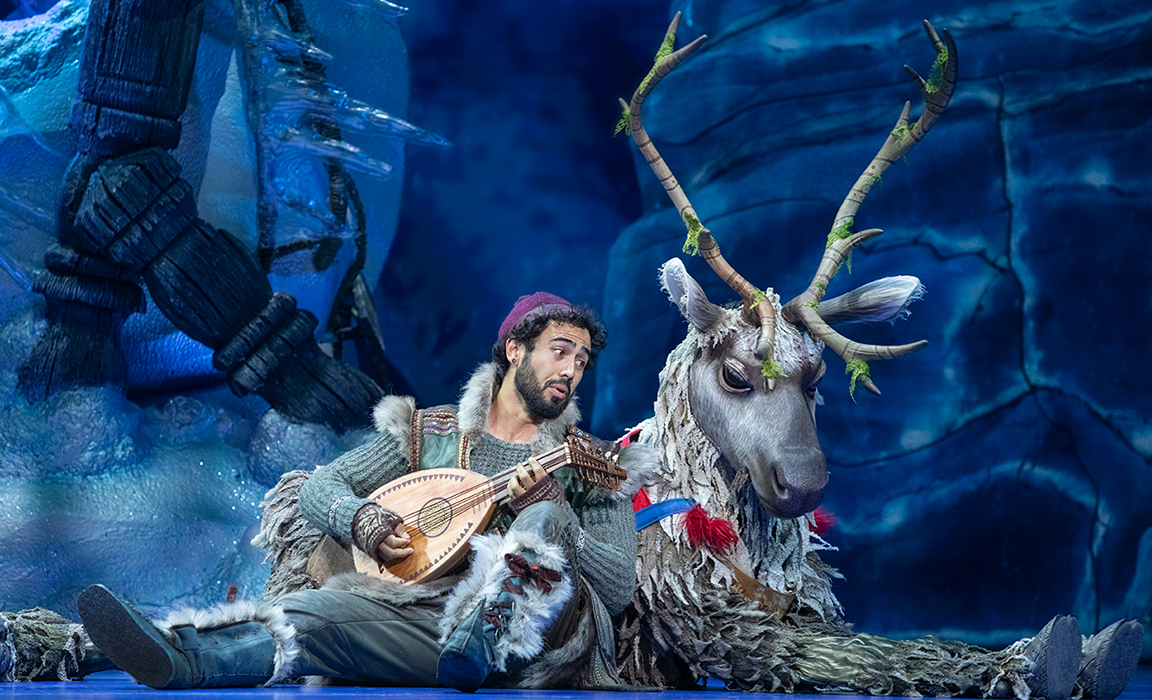 The Costumes

An incredible amount of work and artistry went into making the costumes, overseen by Australian Costume and Wig Design Associate Janet Hine. All costumes, wigs, shoes and hats were made in Sydney by a team of Australian artisans.
• 70 people handmade 440 costumes
• Elsa's ice dress alone takes one person 60 days to sew on over 18,000 beads and Swarovski crystals, and three months to make the dress from start to finish
• The custom embroidery on Anna's gown in the coronation scene takes over 100 hours to create and is done entirely by hand
• Costume fabrics and trims have been sourced from fourteen different countries around the world and there's no real fur used in the show
• 145 wigs, hair and facial hairpieces
• Wigs can take up to a month to make using a special instrument to attach every single hair one at a time

• 90 handmade hats
• 120 pairs of custom-made shoes
Whoa! That's a lot of hard work before any singing and dancing starts!

Frozen the Musical is full of enchantment and splendour and honestly, we still don't know how they manage to do all that they do! It's best you gather your friends and family together, get along and see it for yourselves. The flexible ticket exchange program takes the stress away if things change and you need to swap your chosen performance date. 
For all the latest news, special offers, ticket releases and more behind-the-scenes videos of the cast and production follow Frozen the Musical on Instagram and Facebook and sign up to receive their email newsletter.
Book tickets to Frozen the Musical, now playing at Sydney's Capitol Theatre and playing Melbourne's Her Majesty's Theatre from 9 June.